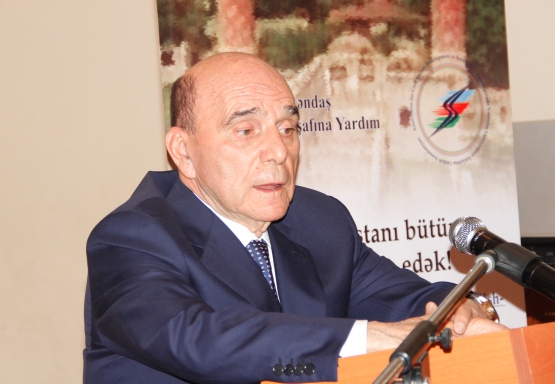 His Holiness, Pope Francis
The Apostolic Palace, Vatican City: 00120
June 16, 2016
Your Holiness,
In light of the relentless and admirable efforts undertaken by Your Holiness to reconcile people of all faiths and promote a better world for future generations, we wish to express our profound concern regarding potential issues that might be addressed during Your upcoming visit to Armenia, including misleading efforts by Armenian authorities to justify their illegal occupation of Nagorno-Karabakh and other adjacent Azerbaijani territories.
We are certain Your Holiness is well aware of the deep rooted tradition of religious and ethnic tolerance that has guided the people of Azerbaijan for many centuries, leading to the peaceful coexistence of Christians, Jews and Muslims.
We remind you that Holy See Foreign Minister Giovanni Lajolo, during his visit to Baku in 2006, made the following statements: "We are satisfied with the level of friendly communications between Azerbaijan and Vatican. Azerbaijan really is a place of merge of religions and cultures. We highly estimate tolerance existing here. And we are very glad with intensive development of Azerbaijan. Vatican is interested in expansion of relations with Azerbaijan, and the purpose of my visit to Baku consists in carrying out of exchange by opinions on the further development of our ties."
Azerbaijan is indeed a secular state; article 48 of its Constitution ensures the liberty of worship, to choose any faith, and to express one's view on the religion.
Since more than 20 years Armenia is illegally occupying 20% of Azerbaijani territory, and several U.N. Resolutions are calling Armenia to withdraw their troops since. Recently the Parliamentary Assembly of the Council of Europe adopted Resolution 2085 (2016), urging Armenia again to return immediately the occupied territories to Azerbaijan.
Despite this ongoing injustice and terrible turmoil that has so unfortunately engulfed our country and our region for the past decades, the people of Azerbaijan remain committed to their spiritual tradition of tolerance, encouraging respect and solidarity between all citizens, where Armenia regrettably aims only to promote and allow one single religion, in a very militant and exclusive format, creating enmity and hatred between countries and people.
In the meantime Azerbaijan has proven to be a model of inclusive coexistence and tolerance in the Islamic world. We continue to be very proud of these achievements and express our sincere desire to further reinforce the full freedom of the Christian religion in our country.
Your Holiness undoubtedly has ample knowledge of the ongoing tragedy for so many Azerbaijani citizens being the victim of the illegal occupation of their homeland by the Armenian aggressor. In light of this, we wish to appeal to the spiritual and moral responsibility bestowed upon the Holy See and to call upon Your Holiness to address in Yerevan the tragedies that have taken place in Nagorno-Karabakh, and to urge Armenian authorities to comply with the conclusions drawn by the international community, in particular the return of all occupied Azerbaijani territories in accordance with United Nations and Council of Europe Resolutions.
We express our determination and hope to cooperate with Your Holiness in your capacity as a mediator who can help reconcile nations and people. Therefore we feel that we must respectfully ask that the Holy See refrains from adopting any one-sided positions that might be interpreted as adhering to the misleading and internationally illegal views held by the Armenian side, in a dispute involving a Christian and a Muslim nation.
We must therefore urge Your Holiness to cancel the visit to the so-called "Armenian genocide" monument and to rise to spiritual responsibility bestowed upon the Holy See for the wellbeing of all mankind. We even so urge Your Holiness to call upon the Armenian government to end its illegal occupation of Nagorno-Karabakh and to take public responsibility for the genocidal actions during the 1992 war in the Khojaly region.
With the most sincere desire to continue to build upon the lessons of tolerance together with Your Holiness and with the hope for a better and peaceful future for all people, irrespective of their religion or ethnicity,
We remain, very respectfully,
Elkhan Suleymanov
President of ACSDA