Following the ceremony of signing documents, President of the Republic of Azerbaijan Ilham Aliyev and President of the Republic of Poland Andrzej Duda have made statements for the press.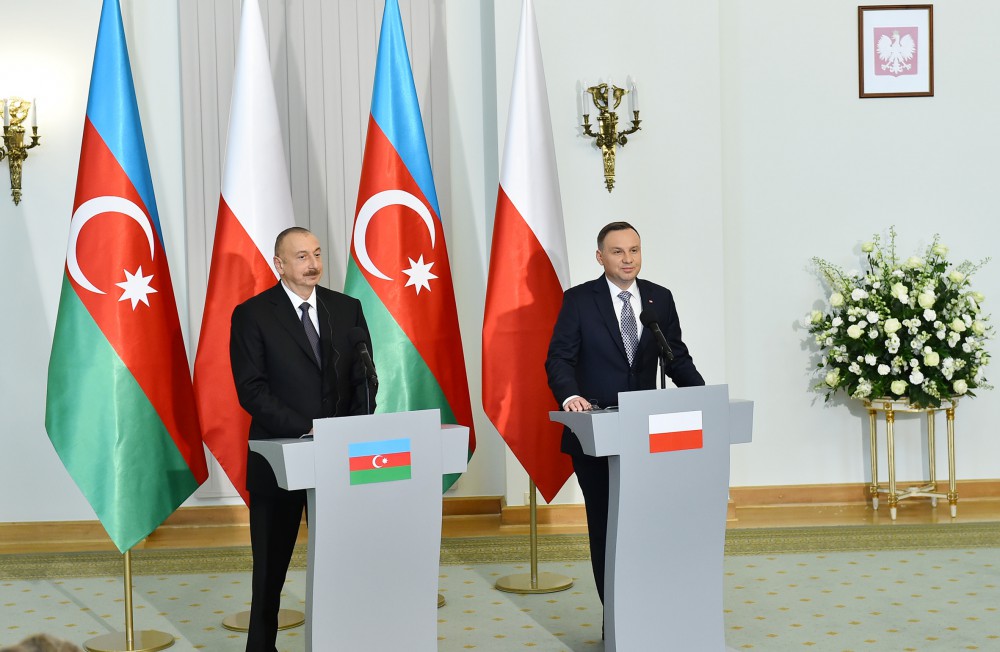 Statement by President Ilham Aliyev
– Thank you very much, dear Mr. President.
First of all, I want to express my gratitude for the invitation to visit Poland and for the hospitality extended to me and the delegation. I am very glad to be in the land of friendly Poland again.
Upon arrival at this palace, I remembered my friend, the friend of Azerbaijan, President Kaczynski. His tragic death shocked his friends. He still lives in the hearts of his friends. You, as his companion-in-arms, are heading friendly Poland today.
Today we are once again giving an impetus to the development of Polish-Azerbaijani relations. During the time of President Kaczynski, numerous visits were paid: mine to Poland and his to Azerbaijan. During these visits, we strengthened our friendship, talked about joint projects and launched some projects. We are embarking on a new stage of Polish-Azerbaijani relations today. In essence, this is a logical continuation of the era of President Kaczynski.
Today we held a sincere exchange of views on many issues. We once again became convinced that Poland and Azerbaijan are two friendly countries. We will continue to strengthen our friendship and make joint efforts to develop our ties.
As Mr. President has noted, many important documents were signed today. They will determine the prospects for our cooperation. Among them, of course, I would like to note the joint declaration on strategic partnership and economic cooperation signed by the Presidents. This is a very serious political document. This declaration covers practically all areas of our relations, including political, economic, energy and transport issues. It also dwells upon the Armenia-Azerbaijan, Nagorno-Karabakh conflict and states that this conflict should be resolved on the basis of sovereignty, territorial integrity, inviolability of the borders of countries and resolutions of the UN Security Council. I want to express my gratitude to you, Mr. President, for this fair position. I want to add that the Azerbaijani state and people have been suffering from Armenian occupation for more than 20 years, as a result of which 20 per cent of our lands have been seized. More than a million Azerbaijanis found themselves in the position of refugees and IDPs in their native land. This conflict should be resolved only on the basis of norms and principles of international law and within the territorial integrity of countries. These theses are reflected in the Joint Declaration.
Today we also talked about our joint activities in international organizations. Taking this opportunity, I would like to once again congratulate Poland on the great victory. The absolute majority of the world community, about 200 countries, chose Poland as a non-permanent member of the UN Security Council. This is a great support for your country and your policies. You have achieved this support by your activities and policies.
Poland is developing rapidly. It has very strong positions in the international arena. Poland acts in a principled and dignified manner in the international arena. I believe that this has also factored into such active support. I am glad Azerbaijan was among nearly 200 countries. Today we agreed that we would continue to support each other within the framework of international organizations.
Mutual relations, of course, cover the economic sphere. We agreed that the current level of trade is not up to the standard. I do hope that the forthcoming business forum and its results will serve the development of trade relations. We already had a conversation on several specific issues today.
Transport and energy. I believe that they should become the main spheres related to the economic bloc. The energy sector. Azerbaijani oil reaches Polish markets. Today Azerbaijan together with partner countries is successfully implementing a giant project – the Southern Gas Corridor. This project will take Azerbaijani gas to Europe. The total cost of the project is $40 billion and its implementation is well under way. I do hope that the first stage of this project will be completed next year, while the second and last in 2020. Thus, Azerbaijan will assert itself as a very reliable partner of Europe. The energy resources of Azerbaijan will also make a valuable contribution to the energy security of Europe. Of course, there are good prospects in other areas of the energy sector. I am confident that we will take advantage of them.
As for the transport sector, as President Duda said, transport corridors East-West and North-South pass through the territory of Azerbaijan. All modern infrastructure has already been created in our country. Seaports, railways, airports, highways have been built. There is already a format of regional cooperation. Now our task is to deepen this cooperation and attract European countries to it. The recent meeting of railway leaders held in Baku suggests that a format for broad international cooperation is already being created. I am glad that Poland is also participating in this format. This opens up great prospects for us. I am sure that the forthcoming coordination and joint efforts will give a good result in the near future, which will benefit all participating countries.
In conclusion, I would like to address the humanitarian aspect of our relations. We know the Poles and Poland very well. The Azerbaijani people pay tribute to the memory of famous Polish architects, engineers and public figures who worked in Azerbaijan at different times and served our country. In 1918, the Poles were also represented in the leadership of the first democratic republic in the Muslim East. In other words, these pages of our history have laid the foundation for the present friendship. There are good prospects in the humanitarian sphere, in the field of culture and tourism. My visit today confirms our friendship once again.
As Mr. President has noted, I invited Mr. Duda to pay an official visit to Azerbaijan. I am sure that he will accept the invitation and we will continue our successful cooperation.
Thank you again!