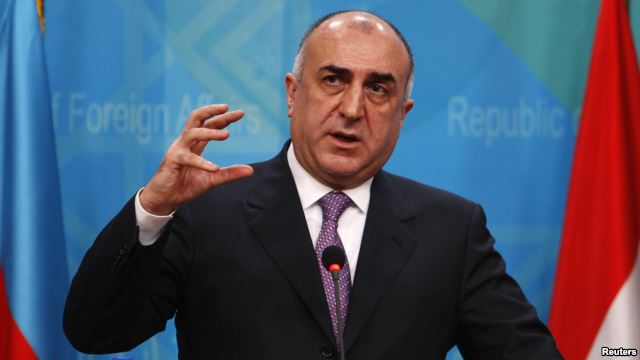 A NEW WAY FOR THE CASPIAN REGION: COOPERATION AND INTEGRATION
 Elmar Mammadyarov
Minister of Foreign Affairs of Azerbaijan
(extract)
Territorial integrity and the concept of sovereignty are however indispensable cornerstones of this highly interdependent and interconnected Caspian system.  Without having territoriality clearly defined there will be no way of installing into the region modern grid structures and open borders. Open and unresolved border issues stimulate nationalism and narrow political paradigms, which are totally   counterproductive to the logic of modern and integrated society and economy.
In this context the protracted conflicts are a major obstacle to progress as they keep us from moving forward at the rate in which we hope to, and at which we need to, in order to catch up with the high-end of global development. The unresolved Nagorno-Karabakh conflict fundamentally impacts Azerbaijan, our security, and our ability to deal with Armenia and the broader Eurasian space through an integrationist frame of mind. Progress on this issue is long overdue and Azerbaijan cannot wait forever for its resolution, although we remain supportive of a peaceful approach to conflict settlement and the OSCE Minsk process. But the European Union could also be more directly involved in protracted conflict resolution through its neighborhood policy. All three South Caucasus states are partners in the European Neighborhood Program. As this is a major region of strategic interest for Europe, the EU could help not only Azerbaijan and Armenia – through dialogue facilitation and confidence building measures – but also in Georgia and Moldova. The protracted conflicts are predominantly political issues in need of a political solution, which is why the EU can be particularly helpful.
Azerbaijan is not going to negotiate on its territorial integrity and the government stands ready to defend its sovereignty as stated in and supported by the Charter of the United Nations. A military settlement is not our preferred option of resolving the Nagorno-Karabakh conflict nor do we believe it will necessarily lead to a stable end outcome. It will surely undermine our efforts to move towards more regional integration and regional openness. So we need to solve this problem peacefully and now, but Azerbaijan is prepared to defend its territory.
The Nagorno-Karabakh solution can only be set in the broadest autonomy possible for the province. Baku is open to all options and we are ready to negotiate on every aspect of autonomy. What we are not prepared to do is to negotiate on the sovereignty issue. Nagorno-Karabakh is part of Azerbaijan and it would be highly unjust, and also destabilizing for the region and the international system, to ask us to accept an alternative model. The Kosovo status issue currently on the agenda of the international community is not a precedent for Nagorno-Karabakh. The legal, moral and ethical circumstances, as well as histories of these two cases differ vastly and therefore drawing parallels is extremely counterproductive. Doing so only confuses the situation further.
Azerbaijan and Armenia cannot make a substantial step forward in bilateral relations without first addressing the Nagorno-Karabakh issue. This has a net negative impact on regional development and also on the trans-Caspian project. For Europe, Russia and China this is a major setback in terms of interacting with the region. Next year is an election year in both Armenia and Azerbaijan. We will soon have new governments in Russia and the U.S. Major shifts are also taking place within the OSCE community. Its structure may change in the year ahead. Therefore, the new political parameters due to emergence after 2008 may provide the opportunity for the grand breakthrough and a permanent resolution of the Nagorno-Karabakh (NK) issue. This does not mean we have no work to do in 2008. Confidence building and regular diplomatic contacts should continue between the two sides. But most importantly we should in this coming year agree on the parameters for peace and the bottom line principles like territorial integrity and sovereignty. The NK conflict should not feature in the upcoming elections as a political tool for scoring cheap points. Making the conflict a top electoral priority will only make it harder to find a settlement afterwards.
Source: Turkish Policy Quarterly. Vol. 6 No. 3 – Fall 2007 / Europe's East: Changing Landscapes and Mindscapes in the Caucasus