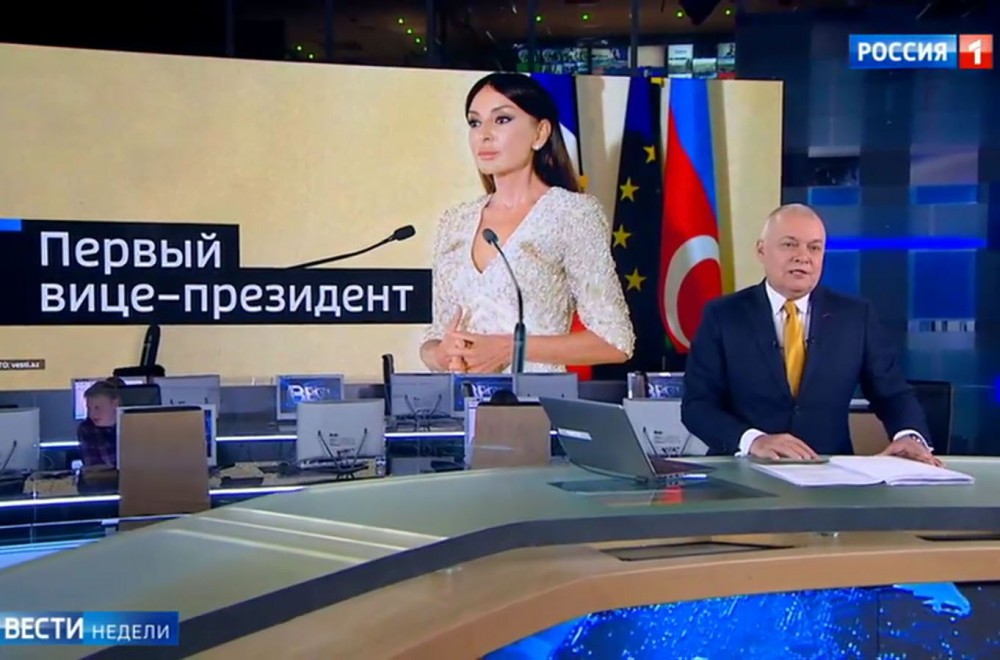 First Vice-President of Azerbaijan Mehriban Aliyeva has been interviewed by Rossiya 1 TV channel. The interview was featured in "Vesti Nedeli" weekly program.
The host of the program, famous Russian journalist Dmitry Kiselev emphasized that the decision to appoint Mehriban Aliyeva as First Vice-President was treated as rational in Azerbaijan.
"Mehriban Aliyeva is involved in all the social and political life of the country. She has considerable managerial experience. She is highly respected in society. Mehriban Aliyeva has been a member of the Azerbaijani Parliament of last three convocations, she successfully manages the Heydar Aliyev Foundation. Baku magnificently hosted Eurovision contest under her patronage in 2012 and the first European Games were organized the year before at a very high level. A beautiful woman, Mehriban Aliyeva successfully refutes the stereotype that politics in the eastern countries is a male job," said Kiselev.
In the interview, First Vice-President of Azerbaijan Mehriban Aliyeva pointed out that in her new position she would justify "the confidence of the President, and most importantly the people who have a confidence and expectations."
"The decision to appoint me to the post of First Vice-President of the country was a personal initiative of the President of Azerbaijan. Of course, probably it was also driven by a fact that for many years I am not only the wife but also a close ally of the Azerbaijani President," said Mehriban Aliyeva.
When asked "You just agreed at once?" Mehriban Aliyeva said: "We discussed, weighed, and my main doubt was whether I can cope with this responsibility. I definitely know, I'm sure that the interests of the state and my husband's advice will absolutely match. Therefore, in the face of my husband I have a man who definitely will help me, will support me and, in case of any doubt, will point the right way. I have to justify the confidence of the President, and most importantly, to justify the confidence of the people who have faith and expectations," said Mehriban Aliyeva.
The first Vice President of Azerbaijan pointed out that her wish is to focus on solving social problems, problems of particular vulnerable groups of the population. "True compassion requires real work and specific steps. The most terrible things are callousness and indifference. This should not happen, and no matter who you are – a public activist or government employee, it is necessary to save humanity," she said.
Mehriban Aliyeva stressed that she is "ready to hear healthy, constructive criticism". "You can be in opposition to the authorities, but you should not be in opposition to your own country," Mehriban Aliyeva emphasized.
The program highlighted charitable activities of the Heydar Aliyev Foundation, led by Mehriban Aliyeva, and its large-scale projects in the field of culture and health.
The program also described the activities of Mehriban Aliyeva as head of the country's Gymnastics Federation, her multifaceted work as a Goodwill Ambassador of UNESCO.
Asked about women politicians in Muslim countries, Mehriban Aliyeva said: "Of course, we are Muslims, but at the same time, we are a secular country, we have secular foundations. We have deep respect for our religion, its traditions. But state and religion exist separately, and I think that there are no problems in this regard."
Moscow, AZERTAC