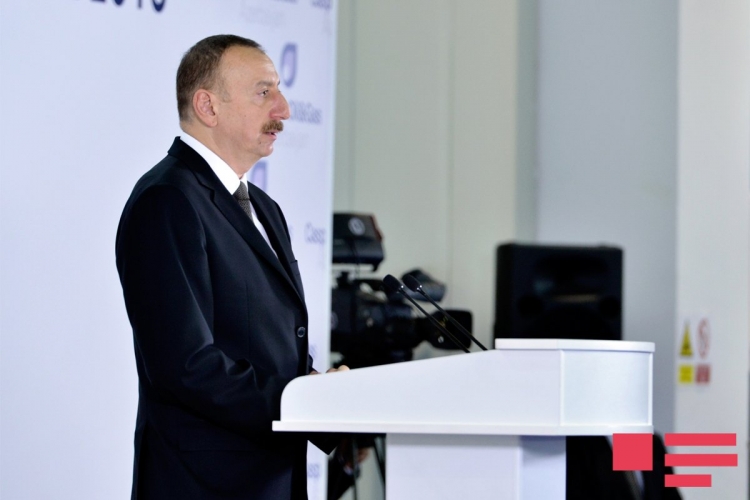 APA. The territorial integrity of Azerbaijan must be restored, international law must be ensured, said Azerbaijan's President Ilham Aliyev.
He made the remarks addressing the opening ceremony of the fifth Baku International Humanitarian Forum in Baku Sept. 29.
"Azerbaijan's historic region of Nagorno-Karabakh and the seven adjacent districts are under occupation. An act of genocide was committed in Khojaly, which resulted in the murder of a significant number of women and children," said the president.
The head of state noted that the Khojaly genocide has already been recognized by 10 countries.
"The OSCE has sent two fact-finding missions to the occupied Azerbaijani territories," said the president. "The infrastructure in the occupied territories are ruined, with mosques and cemeteries bulldozed, while we have renovated an Armenian church in the heart of Baku."
He added that four resolutions passed by the UN Security Council demand the withdrawal of Armenian armed forces from the occupied lands.
"However, the Armenians ignore this. That is big injustice. There is no mechanism for fulfilling the resolutions. Sometimes UN resolutions are acted upon in days, if not hours. When it comes to us, these resolutions have not been fulfilled in the past 20 years," said Ilham Aliyev. "The Organization of Islamic Cooperation, the European Parliament, the OSCE, the Non-Aligned Movement, and the Parliamentary Assembly of the Council of Europe have passed similar resolutions."
Nagorno-Karabakh is historically and judicially an indivisible part of Azerbaijan, the president stressed.
"The territorial integrity of Azerbaijan must be restored and international law must be ensured," he added.