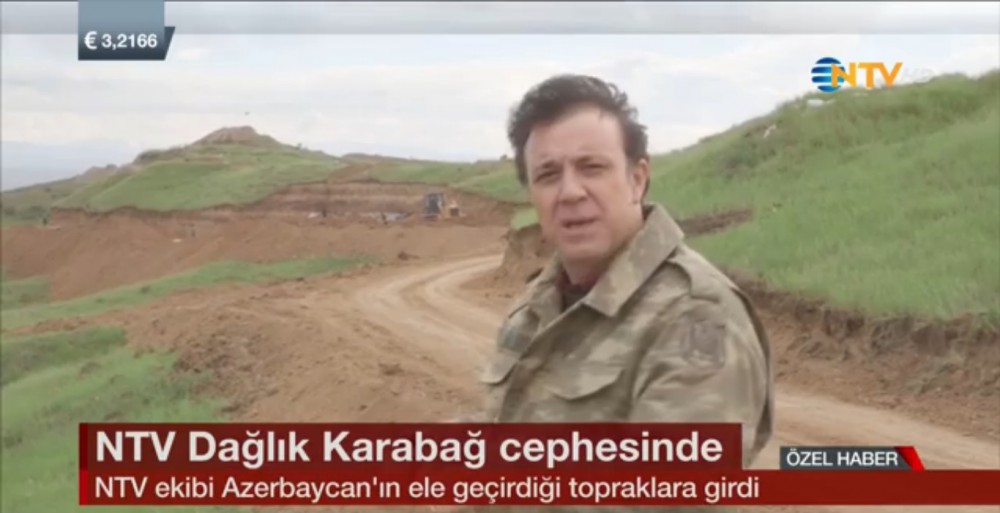 Turkey's NTV channel has broadcast a reportage from the lands, the Azerbaijani armed forces liberated from Armenian occupation in early April.
The reportage highlights the strength and achievements of the Azerbaijani army.
The reportage which was prepared by a well known journalist Ahmet Yeshiltepe highlights the lands liberated by Azerbaijani army after 24 years. The journalist went to the frontline through Beylagan. The reportage says that the demining operations are currently being held in the liberated territories. The strategic importance of the Leletepe height which was liberated from the Armenian occupation was also highlighted in the reportage.
Amhet Yeshiltepe says that Azerbaijan stands for the peaceful settlement of the conflict, adding Armenia should return the occupied lands.
"Today, the Azerbaijani army is able to liberate its occupied territories from the enemy."
The reportage highlights that Karabakh is the historical land of Azerbaijan, as well as the occupation of 20 per cent of Azerbaijani territories by Armenia. More than one million Azerbaijanis who became refugees and IDPs as the result of the Armenian occupation look forward to return to their native lands for 24 years.
Pointing to the UN Security Council four conflict related resolutions on unconditional withdrawal of Armenian armed forces from the occupied Azerbaijani territories, the journalist says Armenia ignores these documents.
The reportage highlights the power of the Azerbaijani army.
Baku, April 21, AZERTAC