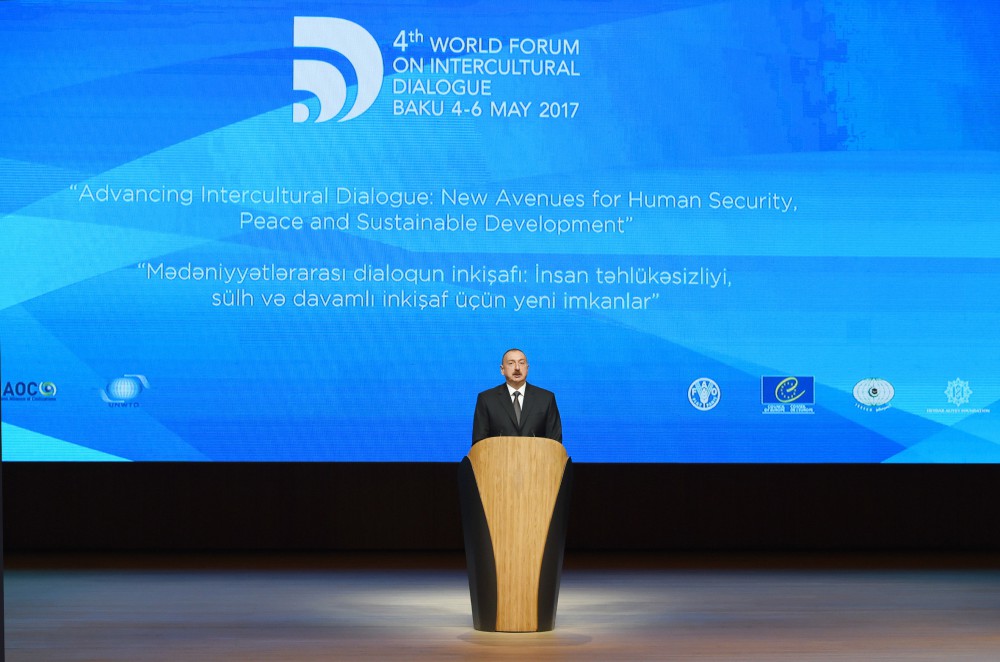 President of the Republic of Azerbaijan Ilham Aliyev and first lady Mehriban Aliyeva have attended the opening of the 4th World Forum on Intercultural Dialogue on the theme "Advancing Intercultural Dialogue: New Avenues for Human Security, Peace and Sustainable Development" at the Heydar Aliyev Center. The forum is organized in cooperation with UNESCO, the UN Alliance of Civilizations, the UN World Tourism Organization (WTO), the Council of Europe, the Islamic Educational, Scientific and Cultural Organization (ISESCO), the Food and Agriculture Organization of the United Nations (FAO) and the North-South Center of the Council of Europe.
Prior to the opening ceremony participants posed together for photos.
The head of state made a speech at the opening ceremony.
Other speakers at the event included UNESCO Director General Irina Bokova, UN High Representative for the Alliance of Civilizations Nassir Abdulaziz Al-Nasser, Secretary General of the World Tourism Organization (UNWTO) Taleb Rifai, Secretary General of the Organization of Islamic Cooperation (OIC) Yousef Al-Othaimeen, Director General of the Islamic Educational, Scientific and Cultural Organization (ISESCO) Abdulaziz Othman Altwaijri and Deputy Secretary General of the Council of Europe Gabriella Battaini-Dragoni.
Chief of the Cabinet at FAO Mario Lubetkin read out FAO Director-General Josè Graziano Da Silva's congratulatory message to the forum participants.
The forum brings together more than 800 foreign delegations, including high-ranking state and government officials, heads of international organizations, parliamentary leaders, renowned scholars, ambassadors and public figures.
This is for the first time that heads of more than 25 international organizations participate in the forum, which has become a platform for global cultural dialogue. The forum will feature a joint high-level meeting of the heads of international organizations for the first time this year, in addition to nearly 40 sessions and events.