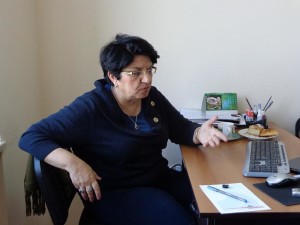 Doctor of historical sciences Prof. Solmaz Rustamova-Tohidi is the chief scientific staff of the Ziya Bunyadov Institute of Oriental Studies of the National Academy of Sciences of Azerbaijan. She authors several books related to the 1918 genocide, including "Baku, March 1918. Azerbaijani genocides in documents", "Guba. March-April, 1918. Muslim massacres in documents", a photo-album titled "1918. Azerbaijani massacres in photos and documents".
– What are the major reasons for the outbreak of the 1918 genocide?
Despite the activities of Armenian armed forces, including "active assistance" provided to Russian troops in the Caucasus front and assaults against unarmed civilians both in Turkey in the South Caucasus during World War I, the Russo-Armenian alliance did not generate anything good but heavy losses and bloody tragedies to Russia, Turkey or South Caucasus. With the collapse of the Russian Empire in 1917, new large-scale conflicts and wars broke out in the South Caucasus, marking a new era characterized by truly great historical upheavals. Although the Armenians could not achieve the recognition of Armenian autonomy by Russia during the war, they effectively drew attention of Western politicians and societies. This success would later play an important role in creating a state in the South Caucasus, although not in Turkey, at the expense of territories of neighboring countries. However, the war was still going on, and the Armenian nationalists realized that it was very hard to implement their plans in that situation although they did not give up their dream of Great Armenia. This factor relocated their activities to South Caucasus, the region with more favorable conditions for realization of their goals. By March 1918, the Armenians had carried out ethnic cleansing by suppressing, deporting or massacring local Azerbaijani population in Kars, Erivan, Zangezur, Goyche, Yelizavetpol, Karabakh for the unborn Armenian state. As a result of confused and chaotic retreat of Armenian and Georgian troops in Caucasus front following the Bolshevik Revolution in Russia in 1917, hundreds of thousands of Armenians, both local inhabitants or temporary settlers in Turkish lands, left for Caucasus. The huge flood of angry and desperate Armenian population led by Dashnaktsutyun gangs and supported by Armenian deserters assaulted unarmed Muslim civilians and forced them to leave their lands in a very short period of time. For example, 199 villages only in the province of Erivan had been devastated and forcibly emptied by the Armenian by March of 1918. The existence of Armenian refugees, who blamed only Turks and Azerbaijanis for their tragedies, in those provinces eased the ethnic cleansing plans of Armenian nationalists. Therefore, one can confidently state that the Armenian statehood was founded at that time. By disarming nearly 50 Azerbaijani military servicemen on March 29, 1918, the Bolsheviks and Dashnaks provoked response. Using this opportunity, the combined armed forces of 6,000 Baku Soviet Red Army, 70% of which was composed by Armenians, and 3,000 Dashnaksutyun troops started massacring unarmed Azerbaijani civilians in Baku. 12,000 Muslim people of Turkic origin were slaughtered only within a week. On the same days, Shamakhi and surrounding villages were burned down. The events were later continued in Guba, Lankaran and Kurdemir.
– What can be said about the exact number of victims?
In my opinion, the best source to do this could be the protocols of the Extraordinary Investigation Commission. According to EIC documents, 11,000 people were killed in Baku. This figure is also reflected in my books about the 1918 massacre. I have also included the financial losses. Some researches contain incorrect information. For example, 167 villages were destroyed in Guba, while some researches claim 122. Or the casualties in Shamakhi are claimed 7,000 victims. In fact, 8,000-10,000 people were slaughtered in the town of Shamakhi, 10,341 people in its 110 villages. Summarizing these figures, we can state that about 18,000 -20,000 people were killed in Shamakhi, 50,000 people throughout Azerbaijan. Moreover, in France I have recently found new documents on provinces of Goychay and Javad. I will prepare them for publication soon. The documents related to Zangezur and Karabakh have not been investigated yet. The Commission was not able to work in those provinces as it did in Shamakhi. Tens of thousands of people died during the epidemic.
– How did those documents reach French archives though?
Those documents and photos were dispatched to the Azerbaijani delegation led by Alimardan bek Topchubashov to the 1919 Paris Peace Conference. Some say that the delegation members took the documents with themselves. But A. Topchubashov left for Paris in late 1918. The Commission could not take the documents and photos as it had not finished its activities by that time. Despite his hard life, A. Topchubashov did not lose a single document; all his files were submitted to the archive of one of the French scientific institutions after his death.
– Did the Azerbaijan Democratic Republic adopt a political resolution based on the documents of Extraordinary Investigation Commission?
First of all, let me tell you that the Commission materials are of special importance today. They were collected and maintained by authorities. The documents are important not only from legal perspective, but also from historical and political point of view. The decision on establishment of Extraordinary Investigation Commission was made on July 15, 1918. The seven-member Commission was chaired by lawyer Alekber bey Khasmammadov. The Commission conducted investigation immediately and prepared documents. However, the government didn't have enough time to adopt any political resolution. Although the government could give the legal evaluation of the events, it could not provide political assessment due to Soviet occupation. Some researchers mistakenly write that the Comission`s work discontinued due to Soviet occupation. The Commission had already completed its work by November 1, 1919. It had collected a large amount of material reflecting the mass killings of Muslim population and heavy financial losses done by Armenian nationalists. After a year and half, the Commission completed its works, and its members returned to their respective activities. The Commission documents were sent to court. In other words, the Commission's primary purpose was to sentence the criminals, who had participated in massacring Azerbaijani population. After the Allied Supreme Council extended de facto recognition to Azerbaijan in early 1920, the Azerbaijani parliament adopted the law on amnesty in February due to pressures. According to the law, all persons, who had committed crimes on the ground of national hostilities became exempted from punishment, while all the EIC proceedings got terminated. Even people who had been bailed out, were paid back. However, I emphasize once again that, the EIC documents are extremely valuable and unique.
– You have worked a lot in archives. Is there any evidence related to the 1905 genocide?
Of course, there is too much documentation, which simply awaits researchers.
– Mrs. Rustamova, we would like to hear your wishes and recommendations to 1905.az.
The more sites and information deal with the events of 1905 and 1918, the better it is for our people. The 1905 events are less researched. Therefore, I support your site and wish a lot of successes.
 Gunduz Nasibov
1905.az