he ceasefire was violated in the direction of Alkhanli village yesterday. The enemy shelled the Azerbaijani army positions and our settlements using 82- and 120-mm mortars and grenade launchers, Spokesperson for the Azerbaijani Defense Ministry Vagif Dargahli said at a press conference on Wednesday, APAreports.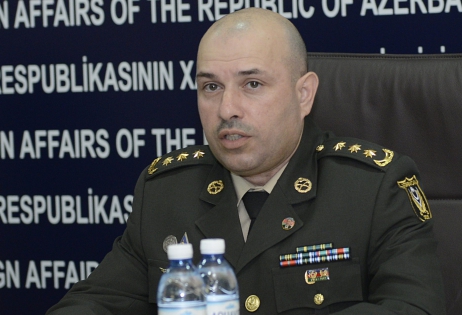 "As a result of this provocation, two civilians were killed and another injured. The wounded was hospitalized and she was saved. At present, there is no threat to her life. Later, the enemy shelling was suppressed", said the spokesperson.
Dargahli said that the enemy hides its losses.
"They will soon have to inform about it. Armenia immediately disseminated false deceiving the international community that Azerbaijani Armed Forces allegedly used civilians as shields. We categorically reject it. There is no headquarters or firing positions in Alkhanli. They also reported that Azerbaijan allegedly used U.S-owned reactive systems. This is an absolute lie. We categorically refute this information. The reactive system that Armenians mention is not the production of the U.S., but Turkey. The enemy, in all ways, commits provocation by disseminating false information. Yesterday such weapon was not used at all. The incident showed that the operations carried by Azerbaijan in April last year were reciprocal measures", Dargahli said.
Dargahli said that such actions will be decisively prevented: "All responsibility will fall on the military-political leadership of Armenia.
Spokesperson for the Prosecutor General's Office Eldar Sultanov said that Fuzuli District Prosecutor's Office initiated a criminal case on the incident occurred in Alkhanli village on July 4.
"An investigative team has been created. While inspecting the scene and bodies, shrapnel pieces of grenade launcher shells were found on the bodies. By conducting objective investigation on the criminal case, necessary urgent investigative measures are underway", he noted.