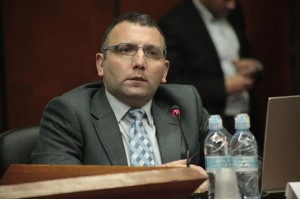 Twenty two years ago we lost our Shusha. For 22 years this golden jewel of Azerbaijan is in the dirty hands of the Armenian occupation. For the Azerbaijanis, who are always proud of the fact that they live at home luminaries of arts, culture and education – Uzeyir Hajibeyov and Bulbul, Natavan and Vagif, Khan Shushinsky and Badalbeyli, Garyagdy and Niazi, and Mehmandarov and many more, it has a special dimension. They were born into an impregnable fortress, and, as pure mountain streams flowed through the valleys, and expanses of Azerbaijan, build, and to create beauty.
As a result of Armenian occupation was burned the house of outstanding Azerbaijani poet of the nineteenth century Khurshudbanu Natavan, destroyed a mosque Govhar yeah, considered one of the jewels of Eastern architecture and character of Shusha. Destroyed a museum-apartment of the great musicians of Azerbaijan, who came from Shusha. For publications in the Armenian press, Shusha has lost its former image of Azerbaijan.
Our tragedy are occupied Lachin and Khojaly, destroyed Aghdam and Khankendi. Our torment  is Shusha. It is the feminine, the mother and sister, and we could not protect her, but we obligate to return. We learned to love long time, but now we must be able to hate. We are the bridge, connecting ancestors and our children's children. On this bridge – Shusha, Karabakh whole, the whole of Azerbaijan.
Today, Shusha, a lonely, orphaned, tortured, abused … Shusha definitely miss those old days when the air was beautiful Azeri music "Bayati-Shiraz". Since the present inhabitants of the city separated from Shusha, the cradle of Azerbaijani music every night sees the indescribably horrible and vivid dreams. Very rarely, Shusha said today in their native language, it's pretty, insanely beautiful, true, true to its indescribable beauty, it has not hurt the Armenian aggression. And, Shusha beautiful and melodic singing and her voice echoes and stirs our souls, when we remember leading figures of Azerbaijani music.
Today, native  Shusha was not alone. It is at home, but among others, destroying everything around so that it forgot her vivid and unforgettable past. It feels strong and indescribable pain of loss and nostalgia, it is understood that the terms of any of the native heart. This bothered her all the time the invaders are trying to erase traces of Azerbaijani, Armenian to give it a look, causing her to "ancient Armenian" scars, build Armenian Gregorian Churches, changed the name of the city.
Shusha sees these invaders seeking to destroy all his native Azerbaijan. Shusha was crying because those bloody aliens destroy museums, monuments of art, sculpture, desecrated and torn Azerbaijani cemeteries and destroyed Azerbaijani Shusha soul that it has forgotten how to mankurt his Azerbaijani history. But Shusha never forget their heritage and Azerbaijan, as Azeri people will not forget this great city – Shusha.
I know that Shusha was crying now remembering the bright Azerbaijani history. Do not cry, we do not have the right to be weak. Shusha is waiting for us and believe that we must go back and liberate it from the inhuman oppression of the Armenian occupation.
We will never agree with the loss of Shusha. We must return to Shusha!!!!
Arye Gut, 
Political Analyst