The "Azerbaijan Community of the Nagorno-Karabakh Region of Azerbaijan" Public Association has issued a statement in connection with the 26th anniversary of the occupation of Azerbaijan's Zangilan district by the Armed Forces of Armenia, Trend reports.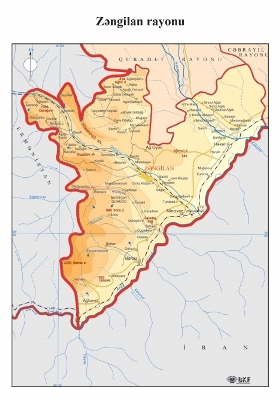 "For 30 years now, Armenia has been pursuing an aggressive policy in front of the whole world. In the late 80s of the 20th century, the Armenians, taking advantage of the current situation to implement the myth of the so-called 'Great Armenia', once again put forward groundless territorial claims against the Nagorno-Karabakh region of Azerbaijan," the statement said.
"Very serious, unforgivable mistakes and the pro-Armenian policy of the Soviet leadership led to a gradual aggravation of the situation in late 1990 and early 1991, and the Armenian aggression in the Nagorno-Karabakh Autonomous Oblast and in the districts bordering with Armenia acquired an even greater scale. The Khojaly genocide, committed before the eyes of the whole world at the end of the 20th century, has become the bloodiest page of this occupation policy."
The statement notes that 26 years ago, on Oct. 29, 1993, the Armenian Armed Forces launched a large-scale offensive in the direction of Azerbaijan's southwestern districts.
"The main objective of the offensive was to capture the Zangilan district, thereby completing the full occupation of Azerbaijan's southwestern part. As a result of the offensive, the Zangilan district, with a total area of ​​707 square kilometers, with a population of 32,600 people, which included one city, one urban-type settlement and 81 villages, was completely occupied. Currently, the Nagorno-Karabakh region of Azerbaijan and seven adjacent districts including the Zangilan district are under the occupation of the Armenian Armed Forces," the statement read.
The statement emphasizes that the Zangilan district, located on the Baku-Julfa-Nakhchivan railway route, has important strategic importance. As a result of the occupation, architectural monuments in the district were completely destroyed, looted and burned.
"The largest plane forest in Europe grew in this district. Armenians cut trees down and sell abroad. They continue to rob other valuable species of trees, deposits of molybdenum, marble, gold, granite and other wealth of the district. The Basitchay State Nature Reserve, largest in Europe, with an area of ​​107 hectares; the Arazboyu Reserve with an area of ​​2,200 hectares; four natural monuments; a specially protected oak forest with an area of ​​10,000 hectares; the state forest fund with a total area of ​​12,964 hectares; up to 1,200 streams; the Gotursu mineral spring, corresponding to the Essentuki-4 mineral water in composition; and the Turshsu mineral spring were located in the district," the statement said.