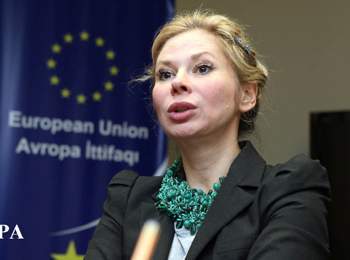 EU considers that the continuation of a dialogue between the presidents of Azerbaijan and Armenia is encouraging.
The statement came from head of the EU Delegation to Azerbaijan Malena Mard .
She noted that EU hopes for continuation of the dialogue.
"We believe that the dialogue between the presidents will continue, because it is the only way to promote many issues. EU is very positive about the continuation of negotiations", Mard said.
According to her, the negotiations on bilateral cooperation between Azerbaijan and the EU continue both in Baku and in Brussels: "I hope that they will continue with the same intensity, which was observed in previous years".
"Azerbaijan and the European Union have established good relations of cooperation", Mard said.
She added that progress was achieved by EU in negotiations on cooperation with several countries.
"We seek to work deeper on issues taking place [in the negotiations] between the EU and Eastern Partnership countries ", Mard said.
 www.1news.az