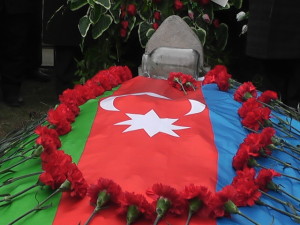 Azerbaijani Army sergeant Karam Nohbalayav  killed yesterday was buried in his home village Sayad (Khachmaz rayon) today

Qafqazinfo reports that the corpse of the Azerbaijani Army sergeant Karam Nohbalayev, who died while performing a combat mission on the 22nd anniversary of the Khojali tragedy was brought to his home village of Sayad in Khachmaz rayon. Covered with the national flag and accompanied by soldiers and officers of his military unit, Karam Nohbalayev was buried. The funeral ceremony was attended by the local authorities and residents.
Killed in Tartar, where cease-fire was violated, Karam Nohbalayev, 19, had been drafted last April. His uncle proudly says Karam has become a shahid.
Sergeant Nohbalayev was posthumously awarded with the medal "For Distinguished military service" of third degree in accordance with the Order of the Minister of Defense, Colonel-General Zakir Hasanov.
Sergeant Nohbalayev was buried in accordance with the special rules of arranging funerals of soldiers killed in action. The Military guard lined up and fired into the air.
The wreaths and flowers were put on shahid`s grave on behalf of the Ministry of Defense. The national flag that covered his coffin was presented to his family.
RIP.