President of the Republic of Azerbaijan Ilham Aliyev and first lady Mehriban Aliyeva have attended the inauguration of Gobu Park-2 residential complex for the internally displaced persons in Garadagh district, Baku.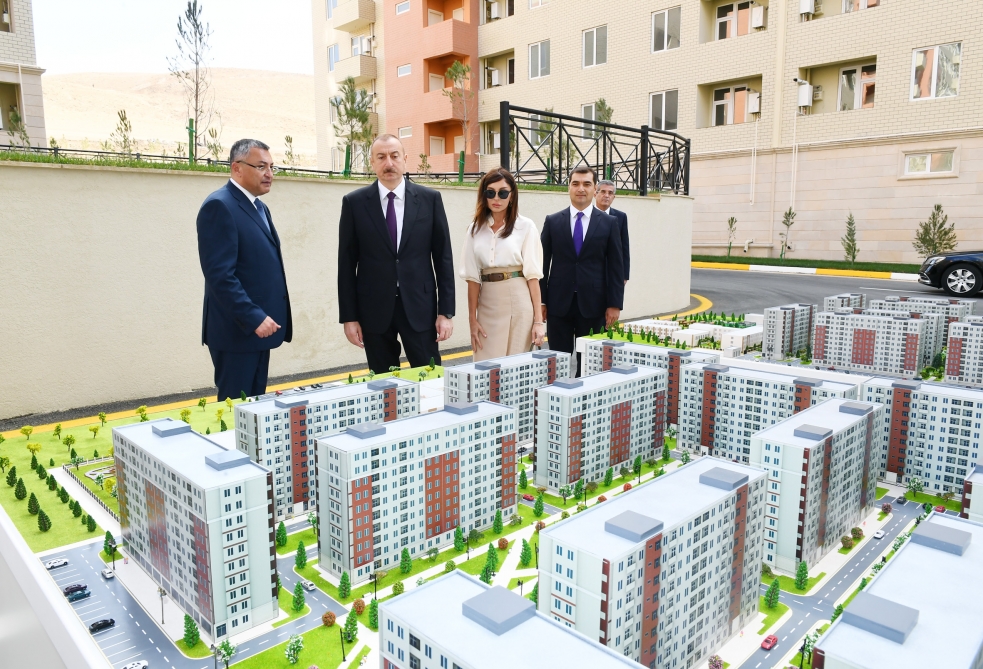 Chairman of the State Committee for Refugees and IDPs Rovshan Rzayev and representative of Pasha Holding, project manager Kamil Aliyev informed President Ilham Aliyev and first lady Mehriban Aliyeva of the conditions created in the complex.
The complex features 13 ten-storey residential buildings, a school, kindergarten, polyclinics, gyms, chess center, market and catering facilities. There is also a recreation park, entertainment places for children, and 3 playgrounds.
President Ilham Aliyev and first lady Mehriban Aliyeva viewed the 780-seat school which is supplied with all necessary equipment.
President Ilham Aliyev and first lady Mehriban Aliyeva then familiarized themselves with the 220-seat kindergarten.
The head of state and first lady then viewed the model of the complexes built for the internally displaced people.
President Ilham Aliyev and first lady Mehriban Aliyeva also viewed conditions created in the apartments of Gobu Park-2 residential complex.
All 1300 apartments are supplied with necessary equipment.
The head of state and his spouse then viewed the IDP, Khojaly martyr family Farida Jabbarova's apartment, met with her family members and had a conversation with them.
President Ilham Aliyev: It is a significant day in your life today. You are moving into a new apartment. Congratulations to you and our other brothers and sisters on this occasion! The commissioning of these two residential compounds is a wonderful and significant event. A total of 1,300 IDP families will live in the most modern conditions here. Beautiful buildings have been constructed here, infrastructure has been created and all facilities have been provided – gas, water, electricity, heating, a beautiful courtyard. Therefore, the commissioning of this compound, of course, is an event of nationwide proportions.
The Gobu-1 residential compound was commissioned last year and we participated in its opening. More than 1,000 people already live there. A total of 1,300 families will live here and another 1,300 families will also live in the Gobu-3 residential compound. Thus, about 4,000 families have been provided with excellent conditions. All the necessary living conditions have been created – schools, kindergartens, a shopping center, a medical center. There are excellent roads leading to the settlement, so there will be no problem with transport. This once again demonstrates that the Azerbaijani state is taking very important steps to resolve the problems of its citizens living in difficult conditions. As you know, hundreds of thousands of IDP families have been provided with houses, more than a hundred IDP settlements have been built. In 2007, the process of liquidation of tent camps was completed and now there are excellent conditions for the IDPs. However, there are still some fellow compatriots who live in difficult conditions – in dormitories, schools, unsuitable buildings, and their problems will also be resolved. At least 6,000 IDP families will be provided with houses in Azerbaijan every year. On average, each family consists of five people, so every year we build and commission houses and apartments for 30,000 people. In essence, it is a whole town. Now a new town has been created in Gobu settlement. All the infrastructure is available. It is no coincidence that international organizations, including the UN, highly appreciate the level of attention and concern for internally displaced people in Azerbaijan and the policy pursued in Azerbaijan in this area is cited as an example for many countries. At the same time, as you know, the amount of benefits provided by the state to internally displaced persons was increased by 50 percent this year. This amount is paid to all IDPs regardless of whether they have a job or not. This is also the result of our social policy. We will continue to pursue this policy in a consistent manner and resolve the housing problems of our compatriots still living in difficult conditions.
However, the main issue on the agenda, of course, is the construction of buildings, villages and cities after the liberation of our lands that are still under occupation. We will do this, just as we built a beautiful settlement in the village of Shikharkh located on the administrative territory of the Nagorno-Karabakh autonomous region which used to be under occupation. More than 1,000 families have now settled down there. On the lands liberated as a result of the April fighting, a new settlement has been built – Jojug Marjanli, which today epitomizes the unbending spirit and determination of the Azerbaijani people. Our fellow compatriots, many of whom lived in an IDP settlement in Bilasuvar for years, have been provided with housing and willingly returned to their native lands. Today, life is boiling there, land is being cultivated, landscaping work is under way, jobs are being created.
The territorial integrity of Azerbaijan must be restored. Our territorial integrity is recognized by the whole world and we consistently pursue our policy in this direction. There can be no talk of any compromise with our territorial integrity. This is not and never will be the topic of negotiations. We must become and are becoming even stronger. Our economic power is growing. At the same time, the unbending will of our people and the resolve of our compatriots expelled from their homes bring the day of liberation of our lands closer.
This wonderful place of residence has been created by the private sector. This is also an innovation, because until today we have built more than 100 settlements using the resources of the State Oil Fund. I called on large companies in Azerbaijan to realize their social responsibility. I said that well-to-do entrepreneurs should extend a helping hand to those who live in difficult conditions, and I am glad that private businesses have responded to my call positively. The "Gobu-1" and "Gobu-2" residential compounds, as well as "Gobu-3" which is under construction today, have been fully built at the expense of the private sector. Taking this opportunity, I want to say to all Azerbaijani companies – to those that have great opportunities and those that don't – that they should show solidarity and bear social responsibility. Our society there should not have inequality, stratification and poverty. Look at the great results the fight against poverty is producing. This is acknowledged by all leading international financial institutions. Poverty in Azerbaijan is at 5 percent, but even that should be eliminated. We all know, however, that the poverty rate in some developed countries is 10-15 percent. As they say, this is just for comparison.
Therefore, the private sector should be more responsible. The state helps it so much, provides loans, creates conditions, implements infrastructure projects. Therefore, the private sector should join this work and apply to the State Committee for Refugees: I want to provide refugees with one, five or 100 apartments. This is the way it should be. I am sure that after these words of mine there will be more appeals to the State Committee for Refugees. Congratulations again!
Farida Jabbarova's brother Elkhan Gasimov: Thank you very much!
President Ilham Aliyev: Where did you live before?
Elkhan Gasimov: In Lokbatan settlement.
President Ilham Aliyev: Were you renting an apartment?
Elkhan Gasimov: No, we lived in temporary Finnish houses.
President Ilham Aliyev: When were these houses built – perhaps 50-60 years ago? Have they now been demolished?
Rovshan Rzayev: Yes, everyone who lived in reed houses was resettled to "Gobu Park-1". I reported on that. There was an order from Mrs. Mehriban Aliyeva – everyone who lived in the most difficult conditions, in basements and reed houses, every single person has been resettled. They currently live in "Gobu Park-1".
President Ilham Aliyev: I have long been aware of this problem because I was elected an MP for the first time from Garadagh District. Even at that time, the Umid settlement was built on my initiative. At that time, I was an MP. We have built about 300 apartments in the Umid settlement. At the next stage, construction expanded.
Rovshan Rzayev: There are 500 apartments there now.
President Ilham Aliyev: At the same time, on my initiative, a five-storey building was built in the Lokbatan settlement, and great leader Heydar Aliyev attending its opening. At that time, this was an innovation because the state did not have particularly large funds. Therefore, I put forward the initiative. There were those who joined this initiative and we took these steps. I remember that those reed houses were always causing concern because they were built temporarily and were absolutely unsuitable for living.
Rovshan Rzayev: I visited there on the instruction of Mrs. Mehriban Aliyeva and provided all the photographs. They currently live in "Gobu Park-1". All families are always very grateful.
Farida Jabbarova: Welcome, Mr. President! You know that all martyr families, those handicapped in the Karabakh war, internally displaced persons, all people of Azerbaijan love you very much and highly appreciate your activities. I could never even imagine that I would meet with you and Mrs. Mehriban Aliyeva and that we would be sitting at the same table. It is a double holiday for me today – we have been given an apartment and we having tea with you, our Commander-in-Chief. We are very grateful to you.
We are proud of you. Your courage is undeniable. We are proud of you for your recent statement on Nagorno-Karabakh at an international event. We are proud that behind us is such a worthy son of the Motherland, a brother like you.
On behalf of all refugees, internally displaced persons and martyr families, I express our great appreciation to you. You are paying constant attention to martyr families and those handicapped in the Karabakh war. No-one can deny this. One must be blind and deaf to deny this and not feel this beauty and this attention.
As for me, we come from Lachin. Nine months before the tragedy, we moved to Khojaly. My husband was an educated person. It was said at that time that Khojaly was developing and he went there in search of work. A month later, he said that he wasn't comfortable looking for some position in the presence of the Khojaly people, so he decided to become a serviceman. On the same day, he was enlisted for the Khojaly self-defense battalion and fought to his last breath. Our son Nijat was nine months and Fuad was two years old. My husband said: "Farida, my relatives will take you out. If I stay in the rear, I will not be able to look into the eyes of my comrades-in-arms. What kind of a man will I be after that?"
He gave his life for his homeland. There is not even a grave. Our children have grown up well worthy of their father. They have received education, completed their military service and returned home in the rank of sergeants. Both are educated. Fuad is a music teacher and Nijat has graduated from the university. During the April fighting, at 4 am I found out that my sons were in the same war zone. They agreed it between themselves without telling me anything. Fuad said, "Nijat, you are single, don't go there, take care of our mother and my family." Nijat replied: "No Fuad, you take care of your mother and family, and I will go." I am proud to have raised them worthy of their father. Not only my children, but also, praise be to Allah, all the children of martyrs are worthy patriots. Inshallah, our lands will be returned peacefully, but if this does not happen, then each of them is ready, on your orders, to free our native lands.
I am very pleased. I may not have experienced such joy for 27 years. Perhaps I have never been delighted to tears. May Allah help you!
President Ilham Aliyev: You have raised wonderful children. They are ready to fight for their homeland at any time. The vast majority of Azerbaijani youth is brought up in the spirit of patriotism. They are attached to the homeland and are ready to do everything possible for it.
As for the social protection of martyr families, this issue is always in the spotlight. Martyr families have social security and are provided with apartments. Thousands of martyr families have been provided with apartments by the state. Our compatriots who lost their physical abilities in the battles for Karabakh were given 600 cars this year and thousands in recent years. I can say that the care the state is showing for people of this category in Azerbaijan is indeed exemplary. Both you and us are following the processes taking place in the world today. And we can see that various countries, including European, are experiencing a refugee crisis. Look at the plight of these refugees. Many of them drown in the sea, many more seem to be kept in a special cage. They are facing inhuman treatment and humiliation. Many live in completely uninhabitable places. We see it on television. In 2003, I said that if I am elected president, I will first of all get rid of the tent camps because they were completely unsuitable for us. True, we did not have material resources for this at the time. Therefore, in 2007 we eliminated them, every single one of them. After that, we moved on to dormitories, schools, to addressing the problems of our compatriots living in unsuitable buildings. Every year, hundreds of millions of manats are allocated for construction alone. Work in this direction will be continued in the future. We are all confident that the Republic of Azerbaijan will restore its territorial integrity. Our power is growing, our population is growing. This year, a 10 millionth citizen was born. Years will pass and our population will increase even more. We will become even stronger and achieve our goal.
There is a unified approach to the Nagorno-Karabakh conflict in our society. From all the platforms and using arguments, historical facts, realities and international law, I defend our just cause. It is impossible to object to these arguments because I am telling the truth and I do this from platforms the whole world can hear. The Prime Minister of Armenia said these absurd words to several people gathered in Khankandi. I could have answered him at another international event, but the audience of that event would have been 1,000 or 2,000 people perhaps. But I said it at a venue everyone could hear – there was a live broadcast, it was at a panel meeting of the prestigious Valdai club in Russia, and the whole world could hear that. In other words, I must tell you that if things are done steadily and wisely, then the blows are accurate. They have received a blow they are unlikely to recover from because there is no counterargument, and a lie will not lead anywhere. Earlier, when there was no information about the conflict, of course, they spread all the lies. They had Diaspora organizations in every country, but we had nothing. Therefore, they provided distorted facts about the conflict and were often believed. Today we live in an age of information, the Internet. There is truth and I communicated it. Everyone knows that both lower and upper Karabakh are original Azerbaijani lands, the Azerbaijani lands recognized by international law, so Karabakh is Azerbaijan, and an exclamation mark! That's all!
Farida Jabbarova: I also wanted to note that your one-off assistance to martyr families in the amount of 11,000 manats has been great support for many single children of martyrs. Inshallah, I want to arrange Nijat's wedding soon. I would like you to attend Nijat's wedding and give your blessing.
President Ilham Aliyev: Congratulations in advance! I wish you happiness.
First lady Mehriban Aliyeva: Do you already know when it will take place?
President Ilham Aliyev: Have you set the date?
Farida Jabbarova: Yes, we will let you know.
President Ilham Aliyev: Tell Mrs. Aliyeva, we will come with great pleasure.
First lady Mehriban Aliyeva: I will be happy to come and take part.
President Ilham Aliyev: You know that Mrs. Mehriban Aliyeva is seriously dealing with this issue. Her first activity in the new capacity was dedicated specifically to the problems of internally displaced persons. She always keeps this issue in spotlight and has made a great contribution to the creation of these settlements.
Farida Jabbarova: Yes, we know about that. Mrs. Mehriban Aliyeva was here last time too. She was greeted with great love. Thank you very much, the work being done by Mrs. Mehriban Aliyeva is hard to overestimate. We are grateful to both of you, may Allah protect you! We always want to see you together, so that you lead our country and our people always feel proud of you.
President Ilham Aliyev: Thank you very much, thank you!
Elkhan Gasimov: Thank you very much for becoming the first guest in our new home. Your words inspire us. Under your leadership, we will liberate Karabakh. Despite health problems, I am ready for any of your orders. Thank you!
Farida Jabbarova's grandson: Dear Mr. President, I respect and love you.
Farida Jabbarova: He is in first grade and studies in Russian.
President Ilham Aliyev: Great! Thank you!