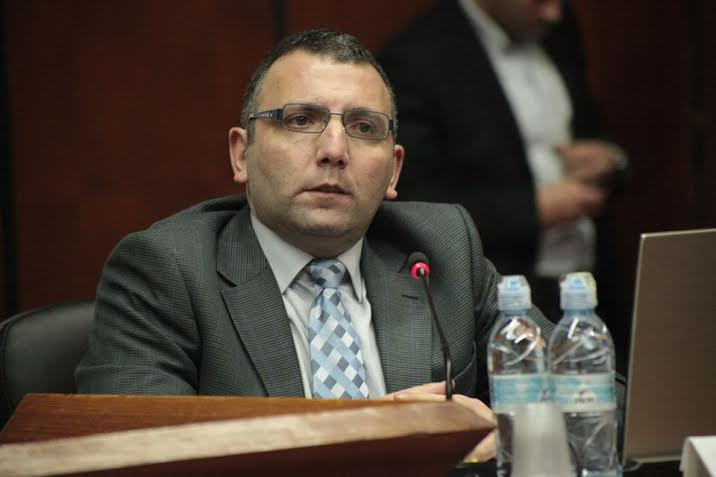 Our interlocutor is Arye Gut, member of the Board of Israeli-Azerbaijani International Organization, official coordinator of the "Justice for Khojaly!" international campaign in Israel and expert of international relations.
Information: Arye Gut was born in 1975 in Baku. In 1999 he graduated the international relations faculty of Baku State University with honor and worked at the same university as a teacher for two years. In 2000 he moved to Israel and started to work as political interpreter in Israeli TV and radios on the issues of Southern Caucasus and Turkey. Meanwhile, Arye Gut works as a project manager in the field of high tech.
– Association for Civil Society Development in Azerbaijan (ACSDA) holds a campaign related to the 110th anniversary of the genocide perpetrated by Armenians against Azerbaijan. What can you say about the aggression, which Azerbaijan was subjected to and those in Israel, who have information about the genocide of Azerbaijanis by Armenians approximately 110 years ago?
– Regretfully, I want to mention that Azerbaijanis living in Israel almost have no information about the genocide perpetrated by Armenians against Azerbaijanis 110 years ago. Information related to this issue has not been delivered to the world community until now. Or, I want to talk about another fact. There is not sufficient information about Azerbaijanis and mountainous Jews, who were killed by Armenian dashnaks in 1918, in Guba. Recently, I have visited Guba Genocide Museum, which was established with the support of Heydar Aliyev Foundation. The museum is on high level. However, it is necessary to put more efforts on video and audio effects. There is a lack of scientific literature in the world and internet about this bloody tragedy. That's why it is necessary to translate that literature into six main languages of the UN. For example, there is a Holocaust scientific institute-museum in Israel dedicated to the memories of 6 million European Jews, who were killed during the World War II. It is not just a museum; it is the biggest research center of the world in the field of Holocaust. When I was in Guba, I appealed to the director of the museum that it was possible to visit Israel, to go that Holocaust museum and to get some experience. I have very good networks in this museum. It is a great scientific and propagandistic arena to work.   
 – You represent a very great project related to the Khojaly. Please, talk a bit about your works done within the framework of this project.
  –  Khojaly genocide is one of the terrific tragedies of the 20th century perpetrated with unparalleled brutality. 2013 was announced the year of Khojaly in our Diaspora organization – Israeli-Azerbaijani International Organization. "Justice for Khojaly!" documentary photo exhibition was held in the 12 biggest cities of Israel during the year with the support of Heydar Aliyev Foundation. These exhibitions in each city created shock effect on people. All the exhibitions were attended by leadership of host city, heads of public organizations, and media representatives. The exhibitions were covered both in local and foreign mass media. Video film in CD format and a booklet about the exhibition were published.
Most of the people had no information about Khojaly massacre. Terrific reality in the photos, demonstrated in this photo exhibition, and documentary photos give broad information about the tragedy of Azerbaijani people.  It is a crime against the whole mankind. Khojaly town was annihilated and burnt in one night. It is already historical fact that Armenian armed forces and mercenaries did not give a quarter to innocent Khojaly citizens, who could not leave the town. As a result of the brutality of Armenian armed forces 613 people were killed, 487 people became disable, 1275 peaceful citizens – old people, children and women were captivated, and were subjected to humiliation and tortures.
We tried to explain to the Jewish visitors of the exhibition that the planned massacre of the civilians of Khojaly town aimed to punish people due to their nationality. Seyran Ohanyan, who today occupies one of the highest posts in Armenia, Serj Sargsyan, ex-president Robert Kocharyan and others have to come before the international court as perpetrators of the Khojaly genocide. A crime must have a punishment. World community has to accuse Armenia for its military-political aggression.
International institutions, parliamentarians from different countries must appreciate the Khojaly genocide, perpetrated by Armenia in the territory of Azerbaijan, as a real genocide.
In the 23th February of 2014 commemoration ceremony in "Shimon Peres Peace Center" in Tel-Aviv dedicated to the 22th anniversary of Khojaly tragedy and to the 5th anniversary of "Justice for Khojaly!" international campaign initiated by Leyla Aliyeva in 2009 was held. Documentary was demonstrated related to the Khojaly genocide and MPs of Knesset of Israel, member of the Israeli government and mass media representatives attended the ceremony.
– What can we learn from Armenians who proclaim imaginary Armenian genocide to the world? Why do they manage to convince the world to their lies and we hardly deliver the reality?
 -Again we return to your first question. Armenians have been carrying propaganda for years and was able to introduce imaginary Armenian genocide to more than 20 European countries. Every propaganda in the world depends on finance and on our will. Our propaganda should be aggressive and strong. For example, our Diaspora organizations should not commemorate Khojaly only in February. Khojaly should always be in our heart and soul. Related to this issue we should not only to organize commemoration events, but also to hold international conferences in the world and to attract specialists in the fields of law and human rights, journalists, ombudsmen, and scholars to those conferences. We should film documentaries and feature films in the world. It must be the main direction of our propaganda. Meanwhile, we can create friendship coalition of Azerbaijan in the world through these international conferences. We must create several websites about the bloody events and tragedies and translate them into main languages of the world. Here Diaspora organizations of the world and diplomatic missions of Azerbaijan must be on the same path.
1905.az