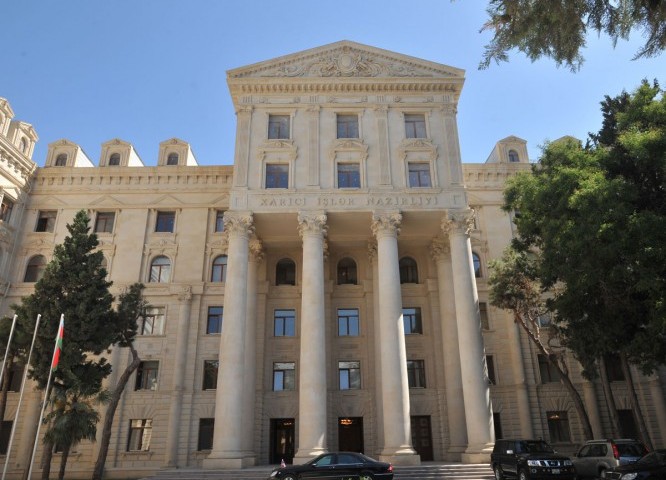 Armenia by all means impedes the sending of a UNESCO fact-finding mission to the occupied Azerbaijani territories to evaluate the state of the material and cultural monuments there, Hikmat Hajiyev, spokesman for Azerbaijan's Foreign Ministry told APA on Thursday.
He was commenting on the reports that Armenia has turned the Jumah mosque in Azerbaijan's occupiedAghdam city into a military headquarters.
The spokesman said that the Azerbaijani side will appeal to UNESCO and other relevant international agencies on this issue.
Hajiyvev noted that according to paragraph 4 and the first and second protocols additional to the 1954 Hague Convention for the Protection of Cultural Property in the Event of Armed Conflict, which was joined by Armenia, and other international documents, the use of the material and cultural monuments for military purposes in the time of armed conflict is prohibited.
International criminal law, according to the spokesman, considers actions against cultural property and heritage during armed conflicts a war crime.
The fact that the Armenians have begun to use the Jumah mosque in the occupied Aghdam city as a military headquarters is not usual, Hajiyev stressed.
He added that Armenia, in violation of its obligations, pursues a systematic and planned policy of destroying, plundering and desecrating intangible cultural heritage and Islamic places of worships in the occupied Azerbaijani territories, falsifying their origin and using them for military purposes.
The Nagorno-Karabakh conflict entered its modern phase when the Armenian SRR made territorial claims against the Azerbaijani SSR in 1988.
A fierce war broke out between Azerbaijan and Armenia over the Nagorno-Karabakh region of Azerbaijan. As a result of the war, Armenian armed forces occupied some 20 percent of Azerbaijani territory which includesNagorno-Karabakh and seven adjacent districts (Lachin, Kalbajar, Aghdam,Fuzuli, Jabrayil, Gubadli and Zangilan), and over a million Azerbaijanis became refugees and internally displaced people.
The military operations finally came to an end when Azerbaijan and Armenia signed a ceasefire agreement in Bishkek in 1994.
Dealing with the settlement of the Nagorno-Karabakh conflict is the OSCEMinsk Group, which was created after the meeting of the OSCE Ministerial Council in Helsinki on 24 March 1992. The Group's members include Azerbaijan, Armenia, Russia, the United States, France, Italy, Germany, Turkey, Belarus, Finland and Sweden.
Besides, the OSCE Minsk Group has a co-chairmanship institution, comprised of Russian, US and French co-chairs, which began operating in 1996.
Resolutions 822, 853, 874 and 884 of the UN Security Council, which were passed in short intervals in 1993, and other resolutions adopted by the UN General Assembly, PACE, OSCE, OIC, and other organizations require Armenia to unconditionally withdraw its troops from Nagorno-Karabakh.