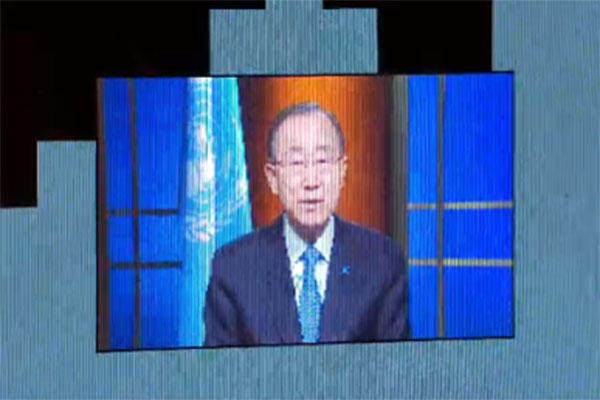 The idea of the 7th UNAOC Global Forum, which is coexistence in inclusive societies, is an important one, said the UN Secretary General Ban Ki-moon in his video message to the participants of the forum.
Ban Ki-moon expressed gratitude to Azerbaijani President Ilham Aliyev for organizing the event.
"Xenophobia and racism is a serious problem. Decent life conditions should be provided for everyone. That's why I fully support the forum's idea," the UN chief said.
He noted that next month Istanbul will host an event on humanitarian crisis, calling on the participants of the forum to show support to that event.
"Record numbers of people have forced to flee their homes, and the underlying causes of all conflicts must be eliminated, Ban Ki-moon said, stressing that the UN General Assembly is determined to eradicate violence.
The UN chief emphasized the importance of strengthening confidence and understanding throughout the world, adding that journalists too must be involved in this work.