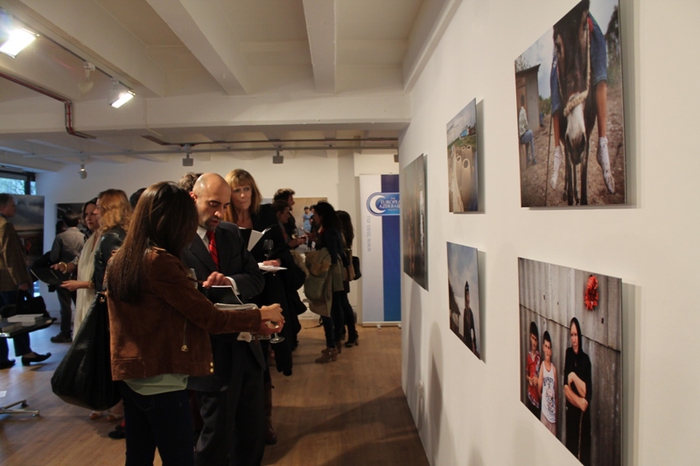 The exhibition "Unresolved dreams" organised by European Azerbaijan Society (TEAS) was opened today in London "Oxo Tower Wharf" .
The exhibition will run from 10–13 April. On 9 April, around 150 people, including fellow photographers, journalists and diplomats, attended the opening.
Charting their everyday lives in four displacement camps across Azerbaijan, the startling results are now on display at the [email protected] – located in London's iconic Oxo Tower on the South Bank.
Speaking at the opening ceremony Tale Heydarov, Chairman of TEAS, commented: "I am seeing the photographs taken by Ed Kashi, the world-famous photojournalist and film-maker, for the first time. In recent years, very few journalists have visited the IDP and refugee camps across Azerbaijan. During the early 1990s, when the Nagorno-Karabakh conflict was still 'hot', there was some coverage, but it became sidelined to a certain extent, as there were so many new conflicts competing for media attention. The pictures show the difficult lives of the IDPs and refugees, as they cook, eat, study and try to make the best of their lives. It is important for people not to forget the IDPs and refugees who are living under these challenging conditions, brought about by the policies of neighboring Armenia".
T. Heydarov noted that the aim is to demonstrate that this conflict remains unresolved. "During the past decade, around £3.3bn has been spent on improving the lives of the IDPs and refugees by constructing better houses and infrastructure. When they were originally forced from their homes, they lived in tents, old railway trucks and other substandard accommodation, surviving temperatures ranging from –10 to 40°C."
"Whenever journalists speak to the Azerbaijani IDPs and refugees, they acknowledge the improvements to their lives, but it remains that living in camps can never equate to life in their own homes. More than 20 years have passed, and many of the original IDPs and refugees have passed away without being able to return. A new generation has been born in the camps, but they do not have the same educational opportunities or aspirations of other children. Journalists and photographers, such as Ed Kashi, serve to raise their voice in the west" – T. Heydarov said.
"Ethnic cleansing is occurring in many parts of the world, most notably in Syria. In Azerbaijan, we do not make a difference between nationalities. All humans are the same and deserve respect. TEAS is attempting to provide justice to these people. Hopefully Azerbaijanis and Armenians can live in peace one day, and the IDPs and refugees can return home. When they do, Ed Kashi will be invited to photograph their return."
Ed Kashi noted that he aimed to bring the situation down to the human level: "I had not previously visited Azerbaijan before June 2013, and was initially amazed by the development of Baku. I then travelled to western Azerbaijan to see the IDP and refugee camps, which was a stark contrast. I met elderly people who were suffering with arthritis due to damp conditions, and they all expressed a wish to return home. I have never been to Nagorno-Karabakh, but I repeatedly heard that it's beautiful. Generations of children are being born in the camps. They are innocent to this compromised, limbo position, and I note the work of the Azerbaijani government to improve living conditions. By pure chance, we saw young school-leavers celebrating their graduation. They did not behave like IDPs and refugees. They had hope for their future, and we all look forward to their future in their rightful homeland."
Note that New York-based Ed Kashi is one of the world's leading photojournalists, having worked for the National Geographic, Newsweek, Time and The New York Times. Co-founder of the VII Photo agency, he has spent his life documenting areas of the world impacted by human tragedies.