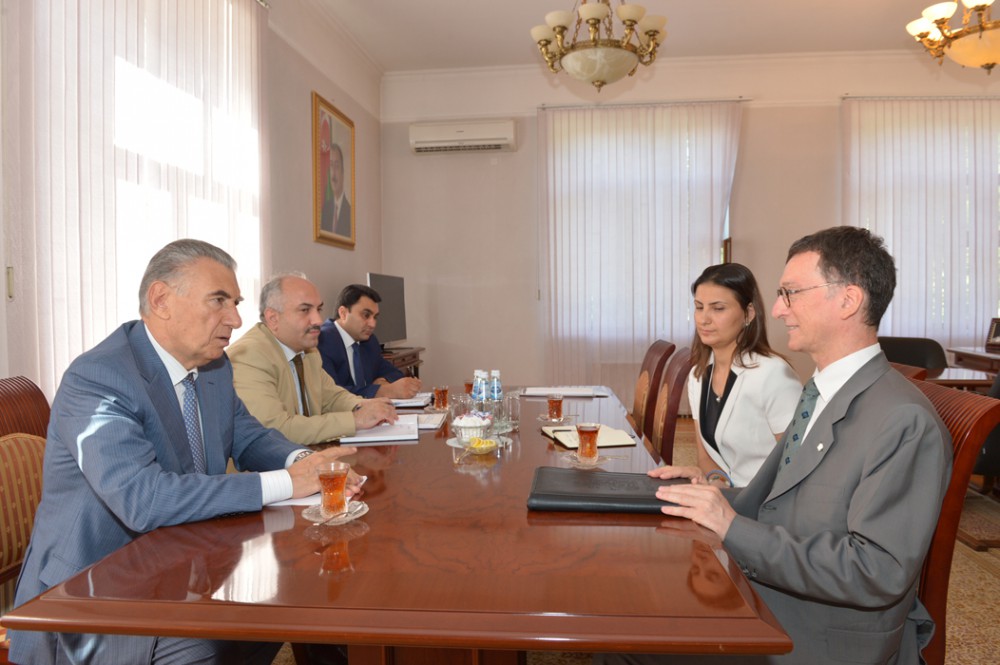 Deputy Prime Minister, Chairman of the State Committee for Refugee and IDP affairs, chairman of the Republican Commission for International Humanitarian Assistance Ali Hasanov has met newly-appointed head of the United Nations High Commissioner for Refugees (UNHCR) Baku Office Furio De Angelis.
The Deputy PM praised Azerbaijan`s relations with UNCHR, adding the country`s election as a member of the organization's Executive Committee was a vivid evidence of these ties.
Mr. Hasanov also said appointment of the UNHCR`s new head in Baku would play a significant role in developing these bonds.
Ali Hasanov said relations between Azerbaijan and UNHCR were created on solid ground thanks to successful foreign policy of President Ilham Aliyev. The Deputy PM highlighted the works done by President Ilham Aliyev in solving the problems of the IDPs in the country.
The Deputy Prime Minister also highlighted Azerbaijan`s development over the last years. He said the country steadily developed under the leadership of President Ilham Aliyev across the last 10 years and turned the one of the world`s leading states. The Deputy Premier also underlined the international events hosted by the country, saying Azerbaijan turned to the center of the discussions of ongoing processes in the world.
Mr. Hasanov spoke about the importance of UNHCR for Azerbaijan, adding the Organization regularly carry out projects aiming to assist the problems of refugees and IDPs. The Deputy PM also praised activity of the international organizations in the country aiming improvement of the life conditions of the refugee and IDPs.
Hasanov spoke about the negotiations process of the settlement of the Armenia-Azerbaijan, Nagorno-Karabakh conflict, saying Armenia occupied Azerbaijan`s 20 per cent lands and destroyed cultural heritage of the country, as well as its infrastructure. "Armenia refused to honour the resolutions and statements adopted by the international organizations, UN Security council as well. OSCE Minsk Group mediates for peaceful settlement of Armenia-Azerbaijan, Nagorno-Karabakh conflict. The Minsk Group also stated current status-quo is unacceptable."
Furio De Angelis, in turn, applauded the works done by Azerbaijan for improvement of life conditions of the refugees and IDPs. He also expressed assurance that cooperation between Azerbaijan and UNHCR would successfully continue in future.