Upon establishment of three sovereign republics i.e. Azerbaijan, Georgia and Armenia in Transcaucasia the latter receiving independence for the first time during 1500 years ignored discussion in the international organizations of a question of disputable territories, specifications of the inter-republican borders, possessed by old ideas of creation of Great Armenia due to the Azerbaijan and Georgian grounds, has entered to the war with this purpose both with Azerbaijan and with Georgia.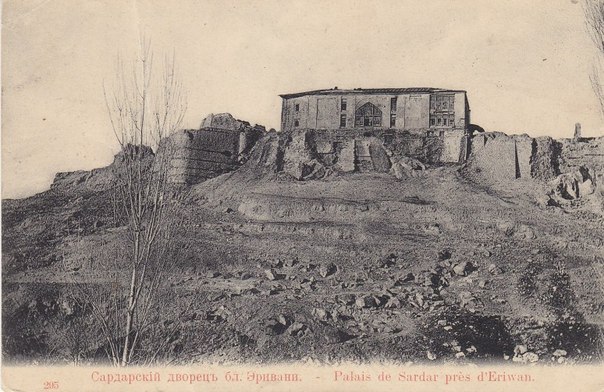 In 1918 territorial claims Armenian dashnak state as was and earlier, have led peoples of Transcaucasia to bloody collisions, slaughter, and occurrence of refugees. How during this period the Armenian nationalists arranged bloody massacres as intensity in relations between the nations and republics was forced them, best of all it would be better to speak historical documents. For this reason, we bring to attention of the reader only the facts telling about atrocities, accomplished dashnaks in territory, starting from Lori-Pambek district Shoragol up to districts Irevan province and from Ganja district to Zangezur province where the majority of the population consisted of Azerbaijanis.
The Armenian dashnak republic has received from allies Kars district, taken away it in 1918 of a part of province Erivan, etc., that has taken territory of Armenia up to 17500 English square of miles with the population 1.510.000 persons (795.000 were Armenians, 575.000 were Moslems and 140.000 belonged to other nationalities). Not being content with it, dashnaks have declared claims for territories Akhalkala and Borchali, including in structure of Georgia, and on Karabagh, the Nakhichivan edge and a southern part. The provinces Elizavetpol, included in Azerbaijan.
By force attempts to attach these territories (during the English occupation of Transcaucasia) have led to war with Georgia (December, 1918) and long bloody struggle against Azerbaijan as a result of which the population of conflict districts was reduced to 10-30 %, and a number of settlements has been in a literal sense erased the persons from the ground.
V.I. Lenin, speaking about claims dashnak governments on creation of great statehood, wrote: «Aspiring to incite Turkey against the Soviet Russia and to break negotiations about an establishment of friendship, heads the Entente dramatized an attack dashnak Armenia to Turkey. Dashnaks took an aggressive position in relation to Turkey, dreaming about creation of "Great Armenia" with inclusion in its structure almost half of Asia Minor. On September 24, 1920 dashnak government started military actions against Turkey. In the beginning of war dashnak, the army suffered one defeat behind another, and come Turkish armies in process of the promotion expelled peace inhabitants, ruined settlements, organized the Armenian massacres. The Turkish government has decided to take advantage of an adventurist policy of dashnak to grasp territory of Armenia. War put finish Armenia to extreme limits of ruin and has put the population of the country before danger of utter annihilation.
In 1918-1920 during mass destructions from 575.000 Azerbaijanis, living in territory of today's Armenia, 565.000 has been killed and turned out. This figure Z. Korkodjan in the book confirms "the Population of the Soviet Armenia, 1831 – 1931.
After dashnaks by 1920 the Turkish (Azerbaijan) population consisted of more than 10.000 persons in the Soviet Armenia. In 1922 after returning 60.000 refugees, Azerbaijanis were 72.596 persons.
Results of the First world war
Liabilities
Assets
1. Population in 1914 – 1.014.255
Population in 1919- 961.677
2. Fatality in 1914-19 years. – 74.155
Turkish stayed in Armenia in 1919- 200.000
3. Emigrants from Turkey – 300.000
Population stayed in Kars and Surmali in 1919 – 59.843
4. Armenian and Jew population from Kars and Surmali – 130.753

1.519.163

1.221.520
Negative profit: 297.643
2. Results of dashnak's policy
1. Population – 961.677
Population in 1922 – 782.052
2. Quantity of outcast Turkish (Azerbaijanis) in the result of dashnak's policy "purge" till 1919 – 200.000
Negative profit: 429.858

Previous losses: 297.643

3.Outcast Turkey in 1920 – 60.000
Total 787.501
Having made the analysis of the population of Armenia after the period of the First World War, the author describes results of a policy of dashnak as follows:
In the other document the list of the population are specified on districts.
In the letter which written by the Prime Minister of the Azerbaijan Republic to chairman of Peace Parisian conference (on August, 16, 1919), table of ethnic structure Nakhchivan, Sharur-Derelez, Surmalin and districts Erivan is listed as following:
| | | | | |
| --- | --- | --- | --- | --- |
| | Nakhchivan | Sharur-Daralayaz | Sumarli | Erivan |
| Moslems (Azerbaijanis) | 62,5 | 72,3 | 68,0 | 60,2 |
| Armenians | 36,7 | 27,4 | 30,4 | 37,4 |
| Other nationalities | 0,8 | 0,4 | 1,6 | 2,4 |
Apparently, from the table, in all districts Azerbaijanis made the majority. As it was marked in the letter, in Vedibasar and Millistan, the parts of district Irevan transferred to the state Armenia, 90 % of the population were made by Moslems i.e. Azerbaijanis.
If to tell by words of the known statesman of Armenia A. Myasnikyan, Armenia at that time has really turned to the most severe, "most unfortunate" part of Transcaucasia. Industrial production in comparison with 1913 made 93 percent, districts under crops, in comparison with pre-war, – 23 %, quantity of large horned livestock – 70 %, efficiency has decreased three times, manufacture of fruit and a grapes for 85-90 %. In streets and waste grounds, it was possible to see corpses of people. 25 % of the population was lost for famine and infections. 2 thousand persons had died in January 1920 only in Irevan. In first number of the newspaper «the Banner of work» with anxiety was spoken that from each hundred 25 persons, on the average each hour – 1,6 of the persons died in 1919 in Irevan. The number of died Azerbaijanis in the city has made 2.241 persons; however this figure raises the doubts, as the number of died Azerbaijanis was much more. They were buried in gardens, in mountains; therefore precisely to count up true quantity of victims is impossible."
On November 29, 1921 establishment of the Soviet authority in Armenia was executed. In article «Old and new Armenia » in the newspaper «Khorkhurdayin Ayastan», devoted to this event, A. Myasnikyan wrote: "What remained to our new Armenia from the period of board dashnak? Orphans and hundred thousand weakened children who have turned into skeletons, army of homeless refugees. New Armenia – the country of orphans and the refugees, overblown with grieves, we cry, mourning, distressing, the country reminding a hell". Hardly before it, in the telegram sent to Moscow on June 29, 1920, S. M. Kirov informed, that hundreds communists in prisons of Armenia pined. In Zangibasar, suppressing mutiny, finished with the taken prisoner Azerbaijanis. They were shot on a place. White terror dashnak had no borders. Denikins led by colonel Zenkevich have come to the aid dashnak Mauser.
Nesterov, Chief of 28-th division, in the telegram, sent to the commander of 11th Red Army (on September 22, 1920), informs that after the slaughter arranged dashnak, managed to be rescued refugees have lodged in district Nakhchivan. Their number reaches approximately 1 million (our allocation). Refugees are in very heavy conditions, live on open air, on bank of Araz, naked, hungry, and exhausted. Position of old men and children are especially heavy.
In autumn and winter every day perished approximately 500 persons, both famine, and severe colds could destroy them completely. It was necessary to take urgent measures. In the letters directed to delegates of 2nd congress of Azerbaijan in Central Committee of Azerbaijan was in detail informed about it. They were informed that the number of the refugees who have arrived in Vedibasar, Zangibasar, Surmali, Echmiadzin, Sharur was informed, that, districts Daralayaz has exceeded 500 thousand persons. On all ways dashnak mausers scoffed at them. Now refugees are under threat of death. If the workers'-and-peasants' state does not render the urgent help, it would be impossible to rescue them.
In the letter sent on February 21, 1921 to an Administrative Department of the Council of National Commissioners Armenian SSR in the American Committee of the help it was spoken: By this time in Zangibasar 9.450, Azerbaijan refugees have returned. They are in the heaviest position: are undressed and starve. It is necessary to create items of a feed where it would be possible to feed them even once a day. Otherwise, they hardly will live about one summer.
Alongside with problems of restoration in Armenia the destroyed facilities, cares of development of a science, culture, A. Myasnikyan's national education paid special attention to strengthening of brotherly communications between peoples of Transcaucasia, to eradication of consequences of the ethnic animosity having a place here during board dashnak, returning of the Azerbaijanis who have run to their homeland i.e. Nakhchivan and Iran. On April 27, 1922, he wrote to Iran: the Special commission engaged in this question, we ask to transfer the Azerbaijan refugees in Iran our request to return on territory of the Armenian SSR.
In the reciprocal letter directed to embassy to chairman of the Council of National Commissioners of Armenia A. Myasnikyan, it was spoken: "After consent Mironov has been received, last train with refugees has been sent to Armenia. In Merend and other districts remain about 900 refugees. There were serious difficulties with a putting in order, corresponding documents for homecoming these, the refugees living earlier in province Irevan. The assistant to the commissioner of foreign of Armenian SSR, Artashes Karinyan has put in the letter sent on July 5 in Baku to Minister of Foreign Affairs Azerbaijan SSR M. D. Huseynov, wrote that: «With the passing of the representative on trade in Iran Pasha of khan Makin's Azerbaijan refugees in the mass order go through Julfa to Armenia. These refugees i.e. inhabitants of Zangibasar, Gamarli and other districts with a view of prevention of distribution and increase in infectious diseases I ask to give the instruction to commissioner Nakhchivan temporarily to suspend this inflow of refugees».
At session of Revolutionary-military, committee of Armenia the question of a cancellation of the decision dashnak governments about confiscation of property of the Azerbaijan refugees was separately considered. In decisions, it was recommended to cancel immediately the decision of dashnak governments about confiscation of property of the Azerbaijan refugees. To commissariats foreign has put also justices it was entrusted to prepare the special project for the statement on revolutionary-military committee on accommodation of the Azerbaijanis, wishing to return on the grounds.
With a view of strengthening of organizing and political work in republic among Azerbaijanis the revolutionary-military, committee of Armenia has discussed one more question. A decision was accepted to enter Suleyman Nuri into structure of Revolutionary Committee of Armenia. In the same decision, it specifies to inform in Baku to comrade Suleyman Nuri that he has immediately arrived in Irevan. In the report of the secretary of embassy of RSFSR on September, 16, 1921 it was marked, that refugees coming back to Armenia, passing registration in Russian Julfa, are sent homeland. For the decision of all questions connected to refugees, in Julfa the representative of Revolutionary Committee comrade Kengerlinski has been sent on business. Every day refugees from Khoy, Maranda and other places groups arrived to Tabriz, begging to send them homeland.
On November 29, 1921. A. Myasnikyan in article «Red Army of Armenia», published in the newspaper «Khorurdain Ayastan », wrote: «Dashnak inspired the armies – plunder people, bring up hatred to Turkishes, Azerbaijanis destroy, try to recover each atrocity spirit khmbabet». In same article, A. Myasnikyan's with pride wrote, that to liquidations of the February adventure undertaken dashnak in Armenia, in a victory of the Soviet authority over republic active participation was accepted by Azerbaijanis, Armenians, aysors. As the best example of solidarity, fidelity, stability, a gain of a victory «the Red camp» Abasgulu Agha Shadlinsky serves. Azerbaijanis, Armenians, Russian, aysors have rallied in closer numbers, with the big diligence were united under the Red banner. In the telegram sent on April 4, 1921 signed by Lebedinsky in intelligence community centre of 11th Red Army, it was informed, that from the army parts consisting from Zangazur and Garabagh peoples, the group by number in 2000 persons and under leadership Yapon on March 27, getting out Keshnishkand was separated, directed aside Boyuk Vadi. This group nearby to Boyuk Vadi has been compelled to battle with organized antidashnak Azerbaijani forces taking place under command of Abasgulubey, and group Yapon has been rejected. Highly estimating merits Abbasgulu Shadlinsky in civil war, A. Myasnikyan has suggested to award with an award of "The Red star» all Fighters from «The Red camp». Abbasgulu Shadlinsky, Ajar Sadikhov, Ibrahim Farzaliyev, Abbas Ajarov, Museyib Ahmed, Gasim Abdullayev, Gafar Aliyev, Jamil Mamedov, Ibrahim Rahimov, Mukhtar Ibrahimov, Najaf Aliyev, Khalil Mehdiyev, Abbas Zeynalov, Eyub Mamedon, Akper Aliyev, Novruz Ahmed, Anatoly Pavlinsky, Anatoly Veliyev, Vladimir Shubrikov, Konstantin Ajunsjan have been awarded with this award. Rewarding of fighters by the first awards of Armenia «Red camp» was result of the personal initiative of A. Myasnikyana. Under his offer active participants of civil war Musa Hasanov, Jalal Mirzayev, Ibrahim Babayev, Abbasgulu Abdullaev, Isa Tahirov, Murtuz Aliyev, Tahir Jahangirov, to Safigulu Ibrahimov and others have received a rank red the guerrilla and Red Guards.
Azerbaijanis of Armenia actively participated not only in an establishment of new authority in Armenia and in struggle against dashnak, but also in clearing this country which they counted the native land, from foreign aggressors, from their armed attack. In addition, despite of it, they constantly were exposed to robberies, robbery, exile, becoming refugees. In a seal of that period, there are many tremendous facts about those bloody disasters dropped out on their share in 1918-1920. We shall pay attention to some from them. Armenian historian A. Lalayan in his work of "Counterrevolutionary" Dashnaktsutsyun» and imperialistic war of 1914- 1918» writes:
«Voluntary movement is characterized by that dashnak groups led by blood-thirsty khmbabet (Andranik pasha, Amazos and others) showed a maximum of "bravery" in business of destruction of Turkish women and children, old men and patients. Occupied dashnak groups Turkish villages "were released" from alive people and reduced to the ruins filled with disfigured victims. One of dashnak "heroes" from N. Bajazeta – Bahram in 1920 as follows described "feats": «I have destroyed the Turkish population in Basarkechar (Basarkechar-one of districts of Armenia – and so on), Not understanding in anything, – "bandit" bragged dashnak.- But sometimes you regret bullets. The most true means against these dogs is that after fight to collect all escaped, to overflow wells them and from above to finish heavy stones that they did not begin more on light. I, – continued the gangster, – and have acted: has collected all men, women and children and has finished with them, having filled in stones wells where they before have been thrown by me… »
Thus, one of results dashnak voluntary movement consists in destruction of ten thousand workers the Turk».
In notes (the Turkish information) Moslems of Yerevan province for Americans it is spoken:
«88 villages were destroyed, 1.920 houses were burnt, and 131.970 men were killed».
At the reader unfamiliar with conditions in Transcaucasia, these lines will be astonishing. Regularly, every day in a seal, it is especial in foreign, cries are distributed, as if Moslems scoff at poor, unfortunate Christian Armenian people, and is suddenly found out, that the violence is made not by Moslems but contrarily by Armenians.
«… In that day from Ganja, there came two cable messages that the Armenian soldiers, passing border at Goycha, have attacked Moslems. Honor, a life, property and possession of 60 thousand Moslems are under threat of.
To ask Jamalyan, which now in Tillis, and the Armenian newspapers, what this such? They, having pretended to deaf persons, will speak, that the Armenian nation destroyed. From this becomes clear, that Armenians, not being content with Armenia, dream of expansion of the borders. To put it briefly, Armenians of the Azerbaijanis have very much spoilt. They speak, what we did, you are silent. However, if you are hardly, we to you such shall arrange… I shall not be and to upset further you, but recently Armenians and do not know, that want».
«Truly, conscience is a good thing. If the persons does not have conscience from him all that you want it is possible to expect… One of these shameless persons, the main commander of the Armenian state – Andranik again begins killing Moslems in Karabagh. In addition, the Armenian state closes eyes to it and makes signs only by hand. How builds a policy the Armenian state and that plans – there is no need to make comments.
This state declares that on Caucasus there can be neither Georgia, nor Azerbaijan. Here only there can be Armenia. Alternatively, all Caucasus becomes Armenia, or something taking place in her subordination.
Extract from the report of the representative highland strips of the Muslim population of 5lh site Ismayil Sultanov for a name ganja the district chief:
«Since April, 13 of this year began invasion of armies of republic Ararat on peace Muslim settlements Goycha of district, It new – Bayazid district with the purpose to clear territory from the Muslim population living in east and northern suburb Lake Goycha and on present time 22 settlements with 60000 population were crushed, burnt and cleared. The unfortunate Muslim population ruthlessly perishes under cannon shots of the Armenian armies having the purpose to exterminate Goycha of Moslems, which they and execute; the horror covers the persons at a kind of such inhuman bloody acts of Armenians and the Armenian government to the former neighbors and the subject Moslems, not taking into account any requests, despite of entreaty and cries of the Muslim population. Come into the hands Armenian armies of Moslems for any blessings do not leave in alive, on the contrary, torture unprecedented tortures, kill wives, children, old men and young people, men, except for few women and teenagers of maidens, all condition of the population gets armies of hungry Armenia and shares proportionally, remaining in alive refugees are pursued by armies, the part which in small quantity has rushed in limits of 5lh site of district Ganja, inhabitants of 17 settlements run in highland a strip of district Javanshir. The others, that is inhabitants of 7-8 settlements huddle in gorges and snow tops of 5-th site of the district Ganja, pursued by the Armenian armies, got bogged down in snows and perish in weights the Problem of republic Ararat is already solved, more Moslems in district Goycha do not exist, on present time were destroyed in New – Bayazid district of 84 Muslim settlements, from them 22 settlements were destroyed between 13–20 dates of April, namely: Dashkand, Goshabulag, Sariyagub, Bash-Shorja, Ayag-Shorja, Soghangulu-aghali, Agh Kilsa, Zod, Gulu-Aghali, B. Garagoyunlu, K. Gara-goyunlu, Zarzubil, the Jan – Ahmadli, Inakdagh, the Gara – Iman, Kasaman, Bashkand, Kichik Mazra, Shish-Gaya, Bash Haji, Garib Gaya with the population more than 15 thousand houses which have left to the mercy of fate all condition getting nowadays to Armenians; the plundered property on some hundred part millions and even billions roubles.»
Pay attention to documents in the newspaper "Georgia" which tells about the atrocities accomplished by Armenians in 1918 on the ancient Azerbaijan ground, territories of the district Zangazur "presented" to Armenians only on November 30, 1920.
The chief of district in the official report from October 30, 1918 results the list of the below-mentioned villages are included in 1 site from December, 1917 till August, 1918:
In December 1917 Kurdlar was destroyed: damage of-150 thousand roubles.
Aramis (Arafsa) too it is destroyed in December: 6 persons were killed, damage of 180 thousand roubles.
During the same period Bahrili was destroyed: 9 persons were killed, damage of 100 thousand roubles.
During the same period Dulus was destroyed: damage of 90 thousand roubles.
In January 1918 Garakilsa was destroyed: 165 persons were killed, damage of 300 thousand roubles.
During the same period, Pulkand was destroyed: 19 persons were killed, damage of 160 thousand roubles.
In April Arigli was destroyed: 25 persons were killed, damage of 128 thousand persons
In April Dastakert: damage of 100 thousand roubles.
By S. Shyhlar was destroyed in June of the same year: 95 persons were killed, damage of 500 thousand roubles.
During same time, Zabazadur was destroyed: damage of 90 thousand roubles.
By S. Sheki it is destroyed in August: 95 persons were killed, damage of 16 million roubles.
S. Yagublu – in August of the same year: 28 persons were killed, damage – 6 million roubles.
S. Giziljig – in August: 27 persons it is killed, damage – 5 million roubles.
S. Vagudi – in August: 96 persons were killed, damage of 13 million roubles.
By S. Sisyan it is destroyed in September of the same year: 60 persons were killed, damage of 800 thousand roubles.
As appears from these documents, only in the district Sisiyan entering on present administrative division to Armenia, within 9 months in destroyed 15 villages 625 persons has been killed, the caused damage has made 51390.000 roubles.
In the telegram received on January, 10, 1919 by the Council of Ministers of the Azerbaijan Republic from chief Zangazur of district Malika Namazaliyev was said, that «in Abdallar I have met the English commission under the direction of the major of the Gibbon. Here at participation of the Armenian and Muslim deputies on the basis of the order of general Thomson, the commander allied armies, the decision to suspend any sort hostile activity between Armenians and Moslems was accepted and to create a normal life. About what has been informed to the population? After that, Armenians imperceptibly on highway came back in Shusha and Goris. It can confirm representation. In addition, Armenians led by group Andranik, having broken the promise, have destroyed 30 Muslim villages, fired them and have appropriated property. Not everything had time to escape people, irrespective of a floor and age, have been brutally killed. About it the message has been given. In three days after I have met the Gibbon and saw off him, I have received news from police officer that Armenians have destroyed a part of inhabitants Razdara 4th site, and village have razed to the ground. Such brutal destruction of Moslems on eyes at representatives of great powers remained unpunished. Armenians dump all faults for it on group Andranik and the Armenian refugees from Turkey.
The purpose of all told consists in definition of the basic directions of strategic plans of the Armenian nationalists. The main direction expanding anti-Turkish, anti-Azerbaijani movement to wage war revenges and in such way to create illusory Great Armenia.
To be continued…
http://karabakh-doc.azerall.info