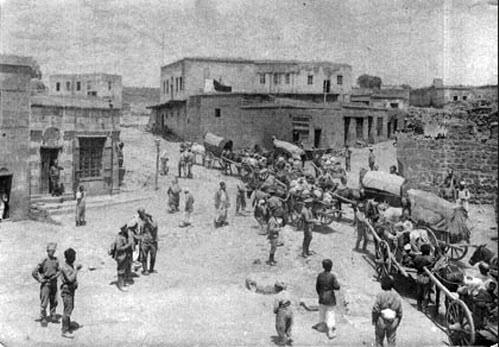 The deportation period of Azerbaijanis, living on the area of now days Armenia includes the years 1820-1988.
There is enough information in books published in Azerbaijan but also published in Armenia and surrounding countries about Azerbaijani refugee deprivations from their homeland which nowadays is counted as Armenian territory.
In the book "Population of USSR Republic of Armenia during the period 1831-1931" written by an Armenian author Zaren Karkadyan, he says "Until 1820 Azerbaijanis lived in 2000 of 2300 settlements on the area of now days Armenia". Since Turkmenchai contract (1828) Azerbaijan's territory has been divided between Russia and Iran which in its turn has resulted in massive deportations of Azerbaijanis.
A book titled "Vocabulary of toponyms in Armenia and surrounding areas" which has been published in Yerevan, reads "70 percent of the modern population living on the area of Armenia are the refugees coming from Turkey and Iran during 1828-1830".
In the book of Y.Shavrovov published in St.Petersburg "Danger against the Russian mission in Caucasus" it is worth to note "from 1828 to 1830 there have been 40.000 people moved from Iran and 84.600 from Turkey to Caucasus rather said to Yerevan where the Armenians belonged to minority".
Professor Castin Makkarti from the USA declares in his book called "has there ever been genocide?" –"During 1820-1920 600 thousand Armenians have been moved to the area of Russia, at the same time 2 million Muslims have had to leave the place"
in 20th century the operations of massive deportation of Azerbaijanis from the area of Armenia includes 4 periods – 1905, 1918-1920, 1948-1956, 1987-1988. As it is approved in many historical and archive sources more than 1, 5 million Azerbaijanis have been deported from their historical place. After the establishment of USSR Republic of Armenia the names of 698 among 940 Azerbaijani settlements have been replaced by Armenian. The whole process has been in action even after the deportation of Azerbaijanis. The former president of Armenia Levon Ter-Petrosyan signed a degree (9 April, 1991) to change those last 91 names of Azerbaijani settlements into Armenian.
Tapdiq Farhadoglu