In history of our nation Khojaly genocide became one of mournful and tragic events. Heydar Aliyev, Azerbaijan Republic President in his "Appeal to Azerbaijani people devoted to 10th anniversary of Khojaly genocide" stressed: "This cruel and ruthless genocide will go down in mankind history as one of the most dreadful mass terroristic acts" ("Bakinski rabochiy", February 26, 2002).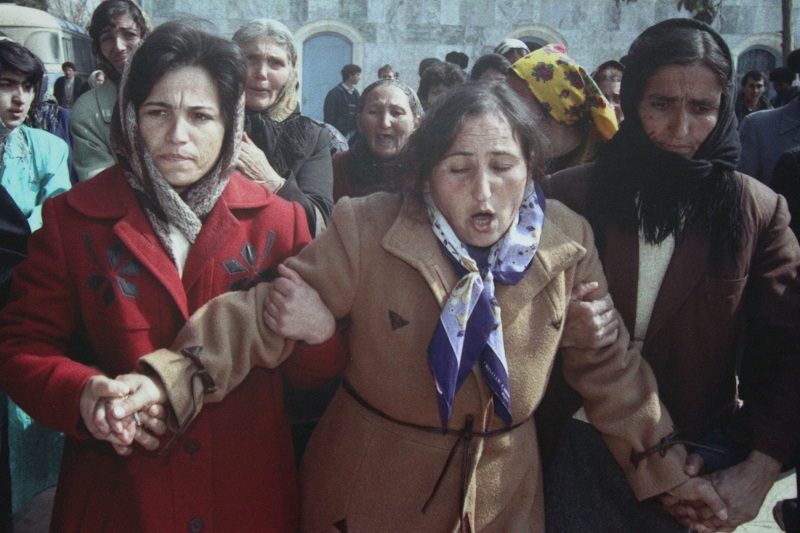 Within two centuries Armenian jingo-nationalists periodically have been conducting against our nation policy of ethnical cleaning and genocide. Azerbaijanis were subject to expatriations from their homelands, converted into refugees and migrants and all of these accompanied with mass slaughters. Policy of ousting Azerbaijanis from their historical-ethnical lands continued in Soviet times, too. Within 1948-1953 150 thousand our compatriots have been deported from Armenia and settled in Kur-Araz lowland of Azerbaijan. In 1988 over 250 thousands were entirely evicted from armenian territory, as a result Armenia turned into sole mono-ethnical state in the world. Highland Garabagh events that commenced in 1988 and were another step toward realizing Armenian ideologists, fantastic idea of establishing "Great Armenia from sea to sea", resulted in destroying settlements and villages, murdering 10 thousand innocent people, expatriating 100 thousand our countrymen from their primordial provinces.
Disregarding all international regulations Armenian jingoists try to annex Highland Garabagh to Armenia. For sake of this shady enterprise they resort to any low-down actions and heinous crimes. So took place tragedy of XX c., Khojaly genocide being fruit of felonious and aggressive policy. The act ranks with such monstrous tragedies of the past century as Khatin, Khirosima, Nagasaki, Songmi.
In the night of February 26, 1992 Armenian armed forces supported by 366-th soviet motor infantry regiment committed genocide in Azerbaijani settlement Khojaly where about 7000 Azerbaijanis dwelled. During the attack here remained approximately 3000 people. Before it Khojaly has been blockaded for over four months by Armenian subdivisions. People needed medical aid and food; here was a great deal of ills, injured, olds, women and children. The town remained unprotected face to face with ruthless armed to the teeth enemy. In telegram sent as far back as December 17, 1991 to republic president by Elman Mammadov (head of Khojaly executive power), it was written: "I must inform you that Azerbaijani settlements being subject to joint offensives of Armenian and Russian soldiers are occupied. Armenians are ready to use all means for opening passage between Stepanakert (Khankandi) and Askaran. The numerous raids of Armenian helicopters indicate to this. Therefore I request you urgently to take serious measures on Khojaly's defense… We expect from you immediate help" ("Khojaly voice", February 26, 1999). The environment around Khojaly and adjoining districts have been incandescing more and more. In this letter there was stressed irreparableness of the formed situation: "All food are coming to end, people want leave Khojaly. No enterprise, school, institution, collective farm is operating now. There are absent any conditions for giving first-aid or performing surgery operations. Urgently help us" (N.Yagublu. Khojaly carnage. Baku, 1992, p.10). Situation in the region deteriorated, food reserve neared the end, among inhabitants starvation commenced. Power craving, political controversies and discords complicated conduction of the urgent measures in this direction.
Evacuation of the peaceful residents was possible only by 2 ways: the former – by air, and the latter – through Khojaly-Agdam passage, but none of them had been used. Operation of opening passage by attacking Askaran conducted by governmental forces ended unsuccessfully.
Since 23 o'clock in the evening Khojaly had been subject to incessant rocket shelling. In the first place there were destroyed barracks and basic defensive posts. Such was beginning of the greatest tragedy of XX century.
Hundreds of people were bestially murdered. That horrible night foul Armenians spared neither children nor old people with women. The town was completely burnt out. Those who succeeded in escaping encirclement were atrociously killed on the road by Armenians. The others died tragically with frost in forests (N.Yagublu. Khojaly carnage. Baku, 1992, p.10)
Antigi Tavakkul, father of Khazangul's (Khojaly's inhabitant) younger granddaughter, was burnt down alive just because he didn't repeat with elder daughter Armenian's allegation: "These areas-part of Great Armenia" ("Khalg" newspaper, November 18, 1992). Sariya Talibova, eye-witness of Armenians' atrocities related: "We were led to Armenian cemetery: 4 Turk-meskhetinians and 3 Azerbaijanis were murdered over Armenian graves. Their heads were cut off. Further here were led 2 more Azerbaijanis and their eyes put out" ("Azerbaijan" newspaper, November 11, 1992).
In missive after Atakishiyev, Khojaly's municipal prosecutor it's written of Khojaly tragedy's bitter outcomes ("Sahar") newspaper, February 27, 1992).
In result of the new genocide inflicted by Armenians over Azerbaijan nation there were murdered 613 people, 1275 among peaceful residents taken hostages. Up to now fate of 150 of them is unknown, 1000 people having received bullet wounds of different degrees became invalids. 106 women, 83 infants, 70 elderlies, old people were murdered. 76 among invalids were youths who failed to come of age ("Bakinski rabochiy», March 30, 2002). Monstrous outrages were committed upon alive and dead: they were scalped, heads and other body parts cut off, eyes of children put out, pregnant women's bellies ripped up. Regardless of all international norms Armenian armed forces treated captives brutally. They infringed all articles of Geneva conventions, protocols by murdering peaceful inhabitants, blocking roads for their retreat. In the course of attacking Khojaly there have been used 5,45 caliber cartridges, chemical and bacteriologic weapons of mass annihilation.
In result of this military-political crime 8 families were fully exterminated, 25 children lost both parents, 130 of them – 1 parent, 56 people who became shahids (faith martyrs) were burnt down alive with utter cruelty and ruthlessness ("Bakinski rabochiy", February 26, 2002).
Before the very eyes of the entire world "Longsuffering" Armenians inflicted in late XX c. over peaceful residents atrocities having no historical analogue.
Among the I spreaders of truth about monstrous crimes committed in Khojaly was Chingiz Mustafayev, TV-operator of Central television killed afterwards by Armenians. He made these shots on hot trails and left us invaluable documents revealing Armenian bandits. Along with him foreign TV-reporters also disclosed truth about Khojaly events. Famous Turkish journalist Irfan Sapmaz wrote: "I and brave journalist Ahasi Mammadov were the first to write about the events in "Hurriyat" newspaper. After arrival in Turkey we appeared on central television and informed the international society of these events" (Irfan Sapmaz, "At table with wolves – Azerbaijan". Baku, 1997, p.36). That days Turkey made the best attempts to rouse international community. Hikmat Chatin, Foreign Affairs Minister demanded urgently from OSCE to express political appraisal of Khojaly tragedy and condemn the action of Armenia. With purpose of bringing more complete information to global society's envoys and journalists from all countries. Representatives of foreign information agencies which operated at that time in republic were taken to Khojaly region.
In March, 1992 "Khalg" newspaper published articles after a correspondent of "Milliyet" Turkish newspaper in Azerbaijan "Today Garabagh is covered with blood" and "Turks are shocked".
In these ones the author adduced materials of Human Rights Commission members (within Supreme National Parliament of Turkey) who had been in Garabagh for a week: "Only in Agdam mosque we found 247 corpses. We conversed with a hundred of witnesses. All of them stated that Khojaly first was destroyed by tanks and Armenians committed mass reprisals" ("Khalg" newspaper, March 26, 1998).
After broadcasting video-cassettes on which there were taken into shot scenes of Armenians' atrocities Pro-Armenia agency allegedly quoting Florence David, French journalist called the shots "fraud". But soon F.David firmly refuted statement imputed to her in letter to the agency ("Bakinski rabochiy", January 26, 2002).
Khojaly tragedy was also depicted in details by Y.Pompeyev, Russian writer in "Bloody Garabagh slough" work (Baku, 1992).
Our nation following "Prevention and punishment of genocide act" convention dated December 9, 1948 has all grounds and rights to bring a suit against Armenian republic in UNO International tribunal. The world must know accomplices of this crime for it is directed toward not only Azerbaijani people but also the entire civilized world. Their names are Robert Kocharyan, Seiran Oganyan, Levon Ter-Petrosyan, Colonel Zarvigorov etc. All of them being guilty in committing the genocide must appear in tribunal.
In "Appeal of Khojaly refugees to UNO, EC and OSCE" it's written: "We, Khojaly people, being for already10 years in refugees status appeal with a heavy heart and at the same time with great hope to all peace-loving nations of the world, all foreign organizations. We request you not to be indifferent to misfortune that befell us in result of Armenian military aggression. We don't believe that enough authoritative world organizations, namely UNO, EC and OSCE, peace-loving states fail to make such aggressive country as Armenia dictating to the foreign community its will, observe justice and discipline"!
We express confidence that the world will denounce military aggression of Armenian state against Azerbaijan, facilitate safeguarding of its territorial integrity, help over million refugees to return to their homelands,contribute to peaceful solution of the historical-political (Highland-Garabagh) conflict" ("Bakinski rabochiy", February 26, 2002).
Evil mustn't go unpunished. Armenia's military aggression must be condemned by the international so ciety. Therefore today our main task is bringing to foreign states, parliaments'notice truth about Khojaly genocide, Armenians' heinous actions on our land, achieving their recognition as true genocide act, international political-legal appraisal of this tragedy. It's our debt before Khojaly heroes and martyrs' memory. We are bound to carry it through and obtain from the foreign community recognition of genocide acts inflicted by Armenians in Khojaly and Highland Garabagh generally. If we cannot do it today, tomorrow Armenians will commence laying claims to Azerbaijani lands. Dashnak Armenians always had their greedy eye on neighbors' lands. Such attempts are already being undertaken for their actions remained unpunished. We must hurry up or tomorrow it will be late.
Muradova Almaz. Candidate of history.
Imanov Raftar. Candidate of history, assistant professor.
"Historical facts of Armenian's actions in Azerbaijan land". Baku-2003, p.256-262