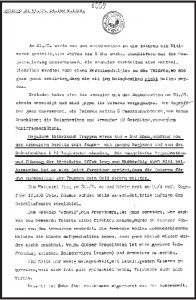 "In March 21 the Bolsheviks sent an ultimatum to Tatars demanding to give up all arms till 5 o'clock in the afternoon and recognize the Soviet Government. Armenians behaved neutrally. They sent their representative to Tatars, who clearly stated the unwillingness of Armenians to consider with the Bolsheviks. In spite of this in the evening of March 31 Armenians had joined the Bolsheviks and attacked Tatars. The attack started suddenly. Tatars had 5 machine-guns and no artillery at all: the Bolsheviks and Armenians had 12 ordnances, not counting naval artillery. Regular Tatar forces counted 400-500 men, whereas Armenians had a regiment since January, and the Bolsheviks had one and a half regiment at their disposal. Imperfect organization and Turkish officers' commanding predetermined their failure. There also were rumours that Tatars didn't want to make donations for the formation of military units.
The slaughter started in March 31 and stopped in April 3. There were approximately 12000 dead. The houses have been partly burnt down and destroyed.
The "Izmail" building, an architectural masterpiece, was completely destroyed.
Those who did not manage to escape were killed by Armenians in their own houses.
Armenians disembowelled female Muslims. There was no mercy even to children.
Some estrangement between the Bolsheviks (Russians) and Armenians became consequence of all these infamous crimes. I had a little chance to talk to the Tatar intelligentsia, as many of them escaped. Partially to Tiflis.
At present Baku is almost completely cut off from the outer world."
Source: Erich Feigl "Sharp Turning-Point! Armenian Mythomania And The Truth Documentation"