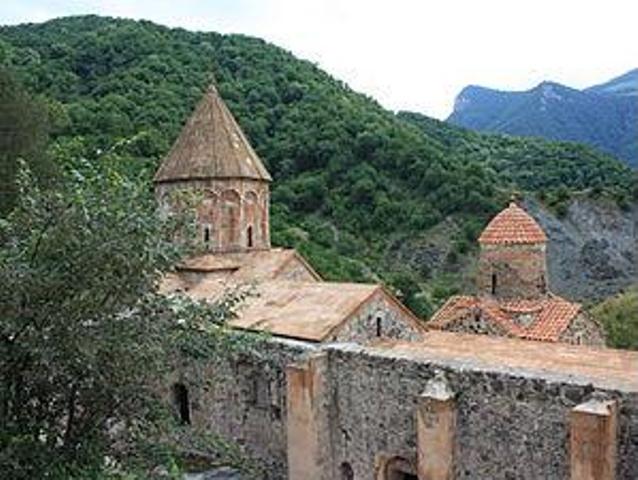 Gregorianization and Armanianization of Albanian population of Karabakh was a long historical process:
1. Native population of Karabakh was Albanian tribes as in other lands of Northern Azerbaijan;
2. Christianity was spread in some parts of Albania, including Karabakh in the early IV century;
3. Islam spread throughout the country during occupation of Northern Azerbaijan by the Arab Caliphate and its ruling in VII-IX centuries, but Albanians, living in the mountainous part of Karabakh, did not change their religion;
4. Armenian-Gregorian missionaries, migrated to the Caucasus, seizing favorable situation, appeared as a result of the Arab Caliphate's occupation, realized Gregorianization and then Armenianization of Christian-Albanian population of Karabakh.
5. Christian population of Karabakh called themselves Albanians in the letter, addressed to the Russian Tsar Peter I. It proves that they still considered themselves Albanians in the early XVIII century;
6. Russia's intervention into the region and Armenians' removal from other countries to the Southern Caucasus, including Azerbaijan, lead to the strengthening of the Armenian factor. This policy acted as a turning-point in historical fate of Gregorianized Albanians. The last stage of their Armanianization started.
7. Armenians' mass relocation from Iran and the Ottoman Empire to Karabakh along with other Azerbaijani regions during the Russia-Iran wars (1804-1813, 1826-1828), the Russia-Turkey wars (1806-1812, 1828-1829) and particularly after Turkmenchay (1828) and Adirna (1829) treaties completed Armenianization of Gegorianized Albanian population. Albanian Catholicos was abolished in 1836. We can call them Armenians just after this;
8. In spite of that, Armenians of Nagorny Karabakh have preserved their specificity, outgoing from their Albanian roots, among general Armenian population.
www.azerbaijan.az