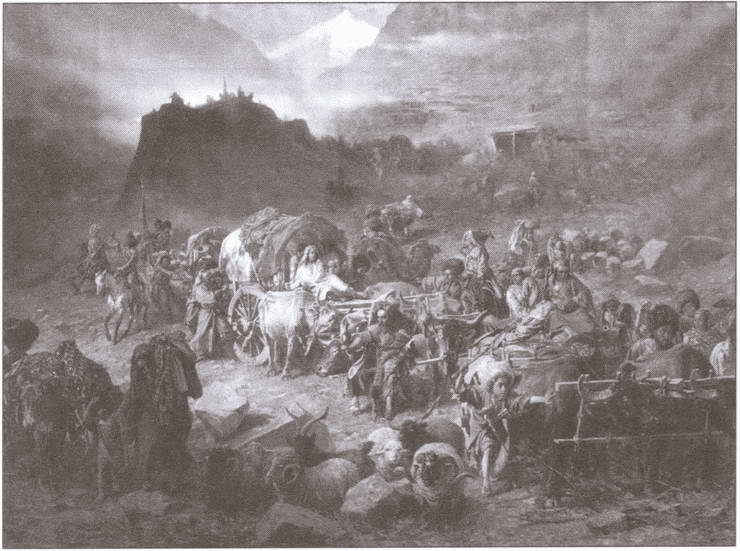 According to article 15 of the Turkmanchay Treaty signed on February 10, 1828 the Armenian people living in Iran were given the right to enter Russia freely as members of the Empire. Without any obstacles from the government or the local authorities, they were to pay no taxes or customs on their properties, things for sale and immovable properties. A period of one year was fixed for taking and selling movable properties. As to immovable properties, a 5-year period was fixed for selling or giving over power of attorney for them. Preparatory actions had begun as far as 1827. According to count  Paskevich-Erivanskiy's special, command from Peterburg that colonel Lazarev (Egizar Lasaryan) who had been prestigious among the Armenians, was taken at Paskevich's disposal. At the beginning of October, 1827 Lazarev had already been a member of a group, which aims were to carry on work among the Southern Azerbaijan Armenians and later he was given a new assignment as a commandant of  Tebriz (in Iran). A question of resettlement of the Iranian Armenians into the newly occupied territories had exactly been raised on the Russian Ambassador to Iran A.S.Griboyedov's  initiative. Actually, the Russian Government had planned to resettle 80.000 Cossacks on the bordering Iranian territories. This plan lost validity. While in November 1828 the negotiations were taking place in Dergargan between Russia and Iran, there was also a meeting between Griboyedov and Paskevich. Archbishop Nerses sent from Hoy (Iran) a delegation to Griboyedov Paskevich meeting in which its members asked them for a show of concern for the resettlement of Armenians. In December in his letter to Sinyalin, the military governor of Tiflis (Georgia), Paskevich mentioned that 15,000 Greeks and Armenians, living around Urmiya (Iran), wanted to resettle in Russian regions. However, Sinyalin suggested an idea to settle them in the regions of Irevan (now the capital city of Armenia) and Nakhichevan (part of Azerbaijan). Immediately after the Turkmenchai Treaty had been signed on February 14, 1878, Lazarev in his report to Paskevich reminded him that during the Russian- Iranian war, the Armenians did everything possible on behalf of Russia and now they want to leave their homes and resettle in Russia. In order to ensure fast and comfortable resettlement Lazarev suggested: 1. He asked to be in charge of the resettlement matters. He also asked Paskevich for documents stating which provisions would be made for the settlers; 2. In order to supervise the resettlement it had be within his power to determine the necessary number of the Armenian speaking staff and chief officers; 3. That the Russian Army should be on call in the new places where the climate could cause a delay of the settlement and to escort the settlers; 4. That the Treasury should provide appropriate means for poor settlers. In order to satisfy all these requests on February 26 Paskevich sent special instructions to Lazarev and to the Irevan temporary leadership. In the 15 articles of the proposal the following was noted : the Christian settlers who had been traders had to be settled in cities to restart their businesses ; villagers should be provided with enough fertile land and for 6 years they would be released from paying taxes and for 3 years would be released from obligations; the families ready to resettle should be provided with special documents and a list of concessions to be granted within that document; those to be resettled had to be divided into groups which were to be numbered between 150 to 300 families. It was important to send the settlers to the regions of Irevan and Nakhichevan to increase the Christian population in those regions as much as possible. Each group had to be provided with an Armenian speaking officer and 3-4 Cossacks as protectors; as soon as the families had started the journey the Irevan temporary administration had to be informed about the number of families; the climates of the regions in which they had lived, their occupations, the herds they had had an approximate time when they supposedly reach the border. Poor families were allotted 25,000 manats (Azerbaijani currency) in silver from the Russian Treasury for resettlement. Lazarev and his Armenian officers' duty were to ensure the settlers' reach the border. In addition, this duty was considered to have been finished. Further, on the leadership of the resettlement was handed over to a committee that was set up and connected to the Irevan temporary administration. The committee members met the settlers on the border and accompanied them to the resettlement areas. All over Karabagh (Azerbaijan), this duty was handed over to Abxazov, the chief of the customs military district. Paskevich wrote an order consisting of 16 articles to the Irevan temporary administration, and noted that the committee had to allot areas of land according to the number of members of each family. In addition, take them to their new homes. The committee had to resettle the villages separately, creating neighborhoods similar to the ones they had lived before. In order to keep up the traditions and the life they had been accustomed to and to protect the settlers from diseases and death as much as possible, those who had lived in mountainous areas had to be resettled in mountainous areas, those who had lived in lowlands had to be resettled in lowlands. Settling of Christians in Muslim villages was to be avoided; separate Christian districts and regions had to be organized. According to the Treaty, the withdrawal of the Russian troops from the Muslim or Christian villages should be followed by sending their staff. The staff had to accompany the settlers and it was decided to resettle people first from Maragan as the withdrawal had started there on March 8. The Armenians living not far from Karabagh, in the village Uzumjy and around, decided to resettle in Karabagh. It was necessary that Christians who had lived among Christians should be settled near their co­religionists. Those few who were Muslims were resettled near other Muslims. Before the harvest had been gathered all the settlers would lend equal amounts of money for the first crops and debts could be paid over a 6- year period. Good conditions and good drinking water would have to be taken into account when choosing a place to settle in. Special reports about the settlement of each family and accounts of general expenditures should be formed. Afterwards in most cases the requests of both proposals were not fulfilled. Lazarev sent delegations to the Armenian communities in Iran to attempt to resettle them by force and thus breaking the Turkmenchai Treaty and orders given to them. In connection with that Abbas Mirza twice appealed to colonel Lazarev that he put an end to the forced resettlement of Armenians and to fulfill the terms of the Turkmenchai Treaty. The archbishop Nerses in his appeal to count Paskevich asked him to give instructions to the local commandant of Khoy (Iran) to remove the bishop of the Sahmas monastery, Israely from his post and exile him to Echmiadzin (in Armenia) because of his opposition to the forced resettlement. At the same time, Abbas Mirza was concerned about the mass resettlement of Armenians along the Russian- Iranian border and tried to block this process. In addition, because of this his representatives visited the Armenians at settlements and tried to persuade them to move. If they did not agree, Mirza's representatives promised them that they would pay no taxes for the next 6 years. In March 1828, Lasarev appealed to the Christians after observing the delay of the resettlement process. He faced many obstacles. At the beginning of his appeal, he noted that some malevolent people had frightened those who wanted to move Spreading rumours and misinformation. He also explained the concessions offered to them by Russia. He wrote, In Russia you will have equal rights with the subjects of His Majesty (the Tsar),   you'll forget all your troubles. There you will find a new motherland populated by Christians and will never ever see the humiliations of your sacred religion. You will see a gathering in one place of the Christians from different regions of Iran. Hurry up! Time is valuable. Soon the Russian Army will leave Iran and your resettlement will be more difficult and well not be responsible for your safe and peaceful resettlement. Even though you may suffer at first, in a short period you will achieve everything you once had. Moreover, this new good life will be forever.
| | | | |
| --- | --- | --- | --- |
|   | Native Armenians | Native Muslims | Resettled İranian Armenians |
| Nehrəm | – | 193 | 93 |
| Karahanbeyli | – | 81 | 26 |
| Tumbul | 9 | 62 | 12 |
| Yarinja | 13 | 48 | 14 |
| Gultepe | – | 113 | 37 |
| Kazanji | 10 | 58 | – |
| Benenyar | – | 72 | 12 |
| Erasin | – | 61 | 7 |
| Kuznut | – | 75 | 19 |
| Nakhichevan city | 114 | 392 | 285 |
| Altogether, in the Region of Nakhicevan | 290 | 1632 | 943 |
From the table it is obvious that most of the settlers were resettled in the villages with the overwhelming majority of Muslims. In the villages where there were mixed populations of Armenians and Muslims it can be seen that only a few settlers were introduced to these communities. To create a balance Griboyedov suggested that 500 families from Nakhichevan were resettled in Derelyeze. Later his proposal was acted on. In 1829 in his final report to count Paskevich- Erivanskiy on the result of the resettlement of the Christians in the regions of Russia, colonel Lazarev noted that the resettlement began on February 26, 1828 and ended on June 11. During that period, 8,249 Christian families (100 families were Aysor, others were Armenians) had been resettled in Irevan, Nakhichevan and the region of Karabagh. From the Treasury 1500 gold and 400 silver manats were spent on the resettlement. About 1,500 Armenian families, who also wanted to move, stayed in Iran because Lazarev could not make it possible. At the beginning of 1828 on the instructions of count Paskevich-Erivansky a collegiate assessor (government agent), I. Shopen added the names to the village population records in which they had resettled. In 1852, the results of this registration were complied in 20 handwritten volumes. He called it "A Historical Document Commemorating the Era of Armenians Joining the Russian Empire", According to the statistics, 366 families consisting of 1,100 members were settled in Nakhichevan and 36 families consisting of 182 people were settled in Ordubad city. Emigrant Armenians were settled in 119 villages in Irevan, 68 villages in Nakhichevan and 11 villages in Ordubad (respectively). Generally speaking, 4,599 families consisting of 23,568 people were settled in Irevan; 2,137 families consisting of 10,652 Armenians in Nakhichevan; 250 families consisting of 1,340 Armenians in Ordubad. After Iranian Armenians had resettled in the newly organized Armenian territories, their number reached 60,681 people (11,377 families), whereas there were 81,749 Muslims (non-Armenians) (16,078 families) and 25,135 Armenians (4,428 families) before. Therefore, their number increased from 24% to 43%. If taking into consideration the fact that altogether out of 8,249 families resettled from Iran, 6,949 were settled in the Armenian region , then one can come to the conclusion that the other 1,300 families were resettled in Karabagh (in Azerbaijan) and Zangezur (in Azerbaijan).
Vagif Arzumanly, Nazim Mustafa. «Black pages of the history». Baku, 1998 . p.25-32. (Translated from Azerbaijani language)
From book "Genocide and deportation of Azerbaijanis", Administrative Department of the President of the Republic of Azerbaijan, Presidential library, p.5-7