The Armenian Church moved to Echmiadzin from Cilicia in XV century. The tsarist Russia wanted to create an enclave of the Christian states in the Caucasus in the nineteenth century. At that time the Georgian kingdom still existed.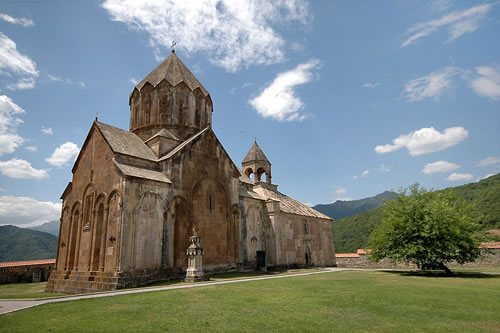 The tsarist government wanted to establish an Albanian state within the boundaries of Azerbaijan. The third Christian state should be Armenia which never had its statehood in the Transcaucasia.
Russia actively started to settle the Armenians from Iran and Turkey in the ancient Albanian lands – especially in Karabakh and Zangazur. However, the treaty of Turkmenchay of 1828 changed intentions of the tsarist Russia. Russia had the opportunity to create a more powerful Armenian state in the territory of Azerbaijan. The idea of "Great Armenia" appeared like that. It should become a buffer between the Russian Empire and the Muslim word. One of the central provisions of this plan, from the point of insidiousness was to cancel the Albanian church and transfer its property, archives and documents to Echmiadzin. It was done by the decree of Nicholas I in 1836. As a result, all the churches in Karabakh became Armenian churches; the Christian population of the region was also recorded Armenians. Only some local ethnic minorities adopted Christianity, but the majority of the population of the Caucasian Albania adopted Islam and the Turkic speaking ethnicity gained shape in Azerbaijan. The Udins maintained cultural and spiritual ties with the ancient Albania and they occupy a special place among those Christian minorities. However, the Udins were included into the Echmiadzin Church as Armenians with the support of tsarist government. In 1853 a decree was issued, it prohibited the Udins to go to their own churches, and in accordance with the same decree an Armenian Church was built in the vicinity of their settlement. Consequently, although there were many Udin villages in Karabakh in the middle of the nineteenth century, none of them remained in the beginning of the twentieth century.
The Udins resisted against the policy of forcible "Armenianization" and, attended neither their own churches, nor the Armenian Church. Many people went to Georgia in order to baptize their children, after the establishment of the Russian Orthodox Church in Azerbaijan they began to go to Baku and Ganja. As a result, the majority of the Udins became the Orthodox Christians.
There were 8 thousand Udins in the former Soviet Union according to the census of 1989. They mainly live in the districts of Gabala and Oghuz of Azerbaijan. Once a big ethnicity, now only a small number of them maintains their national and religious freedoms.
Although the beliefs of the Udins include some heathenish elements into Christianity, and form a syncretic unity with Islam, the specialists have difficulty in disclosing their distinct relations with the Caucasian Albania. The architectural style of churches in the territory of Karabakh and of the present Armenia is the architectural style of the Albanian temples. The Laki Monastery is one of the most sacred temples of this ethnos, but only some outer walls and underground cells have remained of it. Albanian church also includes the temples of Mamrukh (in the district of Zagatala – IV century), Saint Yelisey (VI-XIII centuries), Khatravak (XIII century), the Great Aran (VI-XIII centuries), Ganjabasar (in the district of Aghdara – XIII century), Yeddi kilsə (Seven Church -V-VIII centuries), Amaras (in the district of Khojavand – IX-XIII centuries), Khotavank (in the district of Kalbajar– XIII centuries)
"Право выбора", newspaper, № 4 (5), 2004